Huw Bennett considers wage cap impact before next contract
Last updated on .From the section Rugby Union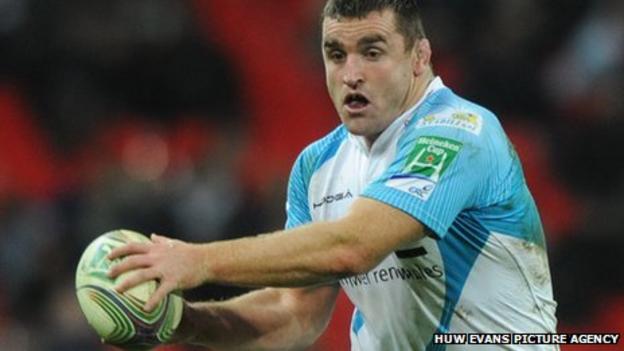 Wales hooker Huw Bennett says the new regional salary cap will be a factor when he considers his next career move.
There are fears that the limit on the regions' spending power could exacerbate the current exodus of internationals.
Bennett is out of contract with the Ospreys at the end of the season and is the latest Wales player to be linked with a lucrative move to a French club.
"I'm taking a close look at what's going on," said the 28-year-old.
"The four regions have come together, which in a way is good to see for our game - they are looking at the future.
"But obviously there are going to be some players who want to know [what the implications are].
"I'll be waiting to see what reactions come from other parties. It was only released yesterday [Tuesday] and it was news to us all."
The four Welsh regions have agreed to spend a maximum of £3.5m on their playing squad from July 2012 onwards.
They believe the agreement will allow them to "manage their businesses more effectively" and to "keep our best players".
The move comes as a number of leading Wales players are being targeted by French clubs, who are often able to double their salary.
Luke Charteris has already announced he will leave Newport Gwent Dragons at the end of the season, while props Adam Jones (Ospreys) and Gethin Jenkins (Cardiff Blues) are also reported French targets.
Shanklin believes the cap will help safeguard the Welsh regions by giving them greater financial clarity for the next few years.
But the former Wales and Lions centre fears it could offer some players an extra incentive to look for a higher salary abroad.
"It's good for the regions because the last thing we want in Wales is for the regions to go bust," said Shanklin, who retired because of injury in April.
"We want the four regions to stay as they are, and hopefully it will increase the talent coming through.
"It's more for a setback for the players. When they come out of contract they are going to realise the money is not there.
"That's when you might find players having to leave Wales to play in either England and France.
"It is a short career - it's 10 years, 12 or 13 if you're lucky. As a player you need and want to make as much money as you can.
"You have children and family to support. I don't blame the players at all for leaving.
"It's quite an incentive when you're effectively getting double your money to go play in France.
"The incentive needs to come from the WRU to keep our top players."