Ospreys boss Scott Johnson slates referee's Twitter use
Last updated on .From the section Rugby Union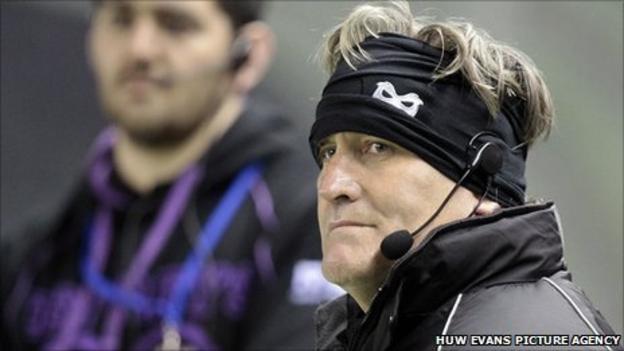 Scott Johnson believes it is "lunacy" that Welsh international referee Nigel Owens is "allowed" to use Twitter.
Owens will referee Ospreys' Pro 12 derby with Scarlets on Monday and the Ospreys boss wants rugby's authorities to "temper" social network sites' use.
"He is on social networks talking to opposition players," said Johnson.
"He posted the last time we played them apologising to the Scarlets supporters for forward passes. When you start that, you open up a can of worms."
Addressing a news conference, Ospreys director of coaching Johnson added: "That can have unfair accusations labelled against people. The sport can do without it."
Owens, who officiated at the 2007 and 2011 Rugby World Cups, did not want to comment when contacted by BBC Sport.
But he later wrote on Twitter: "Thanks all for your kind words and support. I will keep refin [sic] and tweeting with honesty and integrity, as I have always done and always will."
Welsh Rugby Union national referees manager Rob Yeman said the WRU would investigate if any issues were raised.
Owens has been in contact with Scarlets players like Jonathan Davies and Rob McCusker via his Twitter site in the last week and also interacting with Ospreys players such as Andrew Bishop and Richard Hibbard.
"We've got people in places of supposed power, we don't need to know the personal life of officials," Johnson said.
"We don't need them in contact with the players and using social media as a way of doing that.
"We don't need that as a sport, and I don't need it as a coach, to then start to have players mocking officials off the field.
"When we turn up at a game to play rugby, we have to respect the officials. But the respect button is not an easy one to turn on and off.
"The people that are allowing this to occur need to take a good hard look at themselves. It has gone completely too far. It is out of control. This is about the integrity of our sport.
"Last year [Owens] apologised for a forward pass he missed against us that Richard Fussell scored a try from.
"The public doesn't need to know that."
Owens has sometimes found himself at the receiving end of social media comment from players. In February 2010, Ospreys forward Jonathan Thomas apologised to Owens after making a comment about the referee's sexuality.
Eliota Fuimaono-Sapolu then received a six-month suspended ban following his Twitter rant against Owens in the 2011 World Cup after Samoa's defeat by world champions South Africa.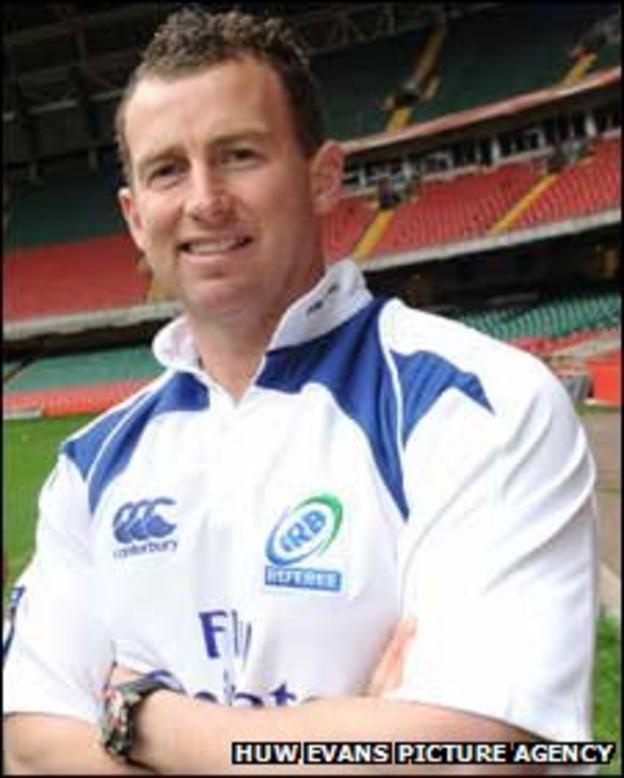 Johnson said the Ospreys tried to regulate their own players' use of social media.
"I've had kids dragged to my attention here that they've posted things," he added.
"But what do I do to control this? Because we are the face of a public and we're trying to set examples.
"It is very difficult for us to try to set standards when other standards are occurring somewhere else, it is lunacy that it is allowed to occur.
"I want the kids that I coach to be good role models and have good ethics.
"You have a look at all the tweeting around the world and how much controversy it has caused in big sports.
"We don't want to go down that road of banning Twitter, I want to show kids what is right when you're in this position and what is not appropriate.
"It is the bane of our existence because things gets said on there that you'd think you would want to remain private."