Six Nations: Shontayne Hape expects to be left out of England squad
Last updated on .From the section Rugby Union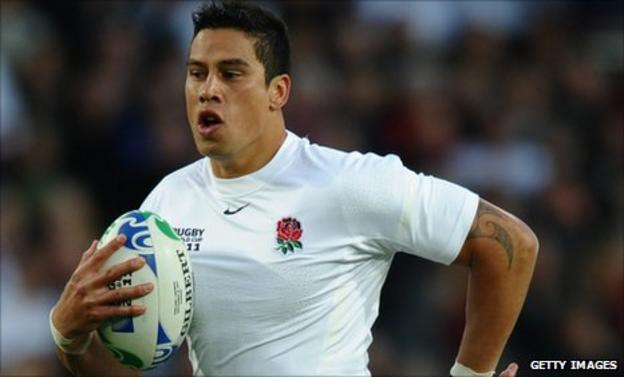 England centre Shontayne Hape believes his international career may be over.
The London Irish star, 30, will not retire from Test duty but expects new interim head coach Stuart Lancaster to overhaul the squad for the Six Nations.
Lancaster will name a 32-man on 11 January and is expected to include a number of players who did not appear at the 2011 World Cup in New Zealand.
"I won the Six Nations, which was a treat, and I think it is time the young guys experienced that," Hape said.
Lancaster has refused to rule anyone out of selection for the Six Nations but Hape believes its time for some fresh blood.
"It is time to start rebuilding for the next World Cup," he said. "You have to start looking at the new breed coming through.
"The only way they learn is if you play them. I am a big believer in chucking young players in there to see what they can do.
"On the way, if older guys are selected to help out then so be it.
"I wouldn't say no if I was selected, but I wouldn't be hanging my hat on it."
New Zealand-born Hape helped England win their first Six Nations title in eight years in 2011 but suffered disappointment at the World Cup.
He played just one game - scoring two tries in the pool match against Georgia - but missed out on the quarter-final defeat by France at Eden Park, where his late grandfather had played cricket.
"The way it turned out was sad, the way we ended up losing," Hape said. "But if that was my last game for England then so be it - I would still be a happy man.
"Winning the Six Nations was the biggest achievement of my rugby career. I can say I played in a World Cup and I scored two tries.
"I would have loved to play at Eden Park, but I have a lot of memories playing for England."