Scottish rivals Edinburgh and Glasgow Wariors prepare for battle
Last updated on .From the section Rugby Union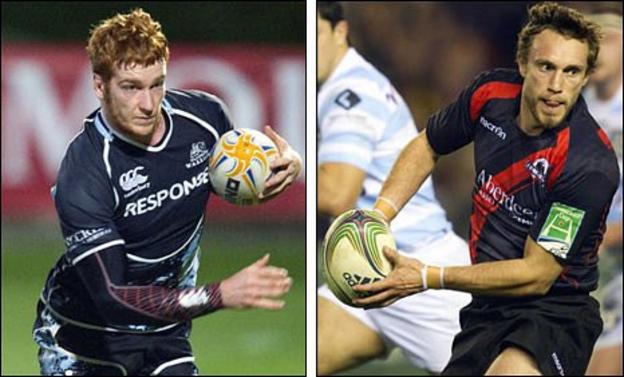 For many people, Boxing Day will be a day of rest and recuperation after a busy Christmas Day.
The clash at Murrayfield and the return encounter at Firhill on New Year's Day double as the two legs of the 1872 Cup, named in recognition of the first meeting of the two sides.
For 80 minutes, the season of sharing and good will to all men will be put to one side as rivalry takes over.
And for Edinburgh scrum-half Mike Blair, winning the battle as a unit takes precedence over the individual contests.
"It's easy to talk about it being a trial and that being the main thing and being in front of the Scotland coach and showing him what you can do," said Blair.
"But it's more important to play well as a unit and play well as a team and the team winning the game because there's no doubt that people will look on that as being more important - a winning side, rather than those individual performances.
"If you do well as a unit, then that's more likely to catch the eye.
"Forget about it being a trial. You just stick in, do what we've been doing every week and hopefully get those league points in the bag."
As far as Scotland selection goes, Rob Harley will be one of those looking to impress Robinson, with team-mate Duncan Weir and Edinburgh's Lee Jones and James King looking for their first caps.
"You have those rivalries with a lot of players in the other team," said Harley.
"There are guys in that team that I've played with all through the age groups. On a personal level, you're looking to get one over those guys as well.
"It's got the tension of the other games but then it's heightened because it's the rivalry. For all the players and the fans as well, it's the game you really want to win and that excitement builds.
"It'll be noisier than any other game as well. It's sustained and because it is the derby the energy levels are that bit higher."
Five wins and a draw in their last six fixtures have taken the Warriors to fifth in the league, seven points behind leaders Leinster.
"We're sitting in a good position for the play-offs in the RaboDirect Pro12 and that's what our aim is for the season," Harley said. "You can't lose sight of that.
"We've got confidence. We know we can go out and beat any team that we're playing against.
"We also think in the squad we know that we're not playing at our full potential yet and we can go up another gear so we're looking to find those inches to make ourselves better."
And the points on offer are also vital for the capital side, who are fourth-bottom.
"If we lose these games then we're kind of stuck down there but if we win them we can head right back up and be in contention again.
"It's really frustrating. We've been really pleased with how things have gone with the Heineken Cup, some really strong team performances.
"It's hard to keep that performance the whole time. We've got to just get some consistency in our game.
"We've been pleased with the ways that we've played in the games. We've just lost a couple of them so we need to take it right through to the end of the 80 minutes."