Ospreys could discontinue director of coaching role
Last updated on .From the section Rugby Union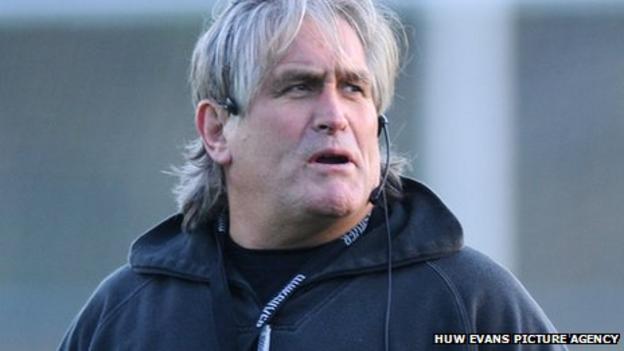 Ospreys could decide against appointing a new director of coaching when Scott Johnson leaves the club at the end of the season, BBC Sport understands.
The three-time Celtic League winners will hold a review of the current structure over the coming weeks.
And it is understood one potential outcome could see the role of director of coaching being scrapped.
The Scottish Rugby Union has confirmed Johnson will assist national team head coach Andy Robinson.
"I feel that now is the right time for me to move on to other challenges but I remain 100% committed to the Ospreys between now and the end of the season," said the Australian.
Johnson, a former Wales skills and assistant coach, left the role of USA Eagles national coach to join the Ospreys for the start of the 2009-10 season.
BBC Sport Wales understands the Ospreys could make a new appointment from within and promote current coaches Sean Holley or Jonathan Humphreys.
Holley, the only member of the backroom staff to be at the Ospreys since the region was formed in 2003, was Ospreys' temporary supremo during the 2008-09 season between the coaching tenures of Lyn Jones and Johnson.
Holley remained head coach under Johnson when the Australian arrived at The Liberty Stadium while former Wales captain and hooker Humphreys is Ospreys' forwards coach.
Former Swansea and Wales scrum-half Robert Jones has said he would be surprised if the Ospreys opted not to appoint a successor to Johnson.
"I think most rugby set-ups throughout the world have a man at the helm and a team underneath him," said one-time Wales captain Jones.
"It could well be the case that they're considering the financial situations of the regions.
"They're all trying to cut back and they've spoken about the salary cap within the playing set-up and I'm sure they're looking to cut costs elsewhere.
"The men there at the moment, Holley and Humphreys, have been there some time [and] they've always been in a secondary role to the man at the top.
"This gives them an opportunity to progress as coaches. At the same time it saves the region a considerable amount of money."