Plymouth Albion chairman calls for new investment
Last updated on .From the section Rugby Union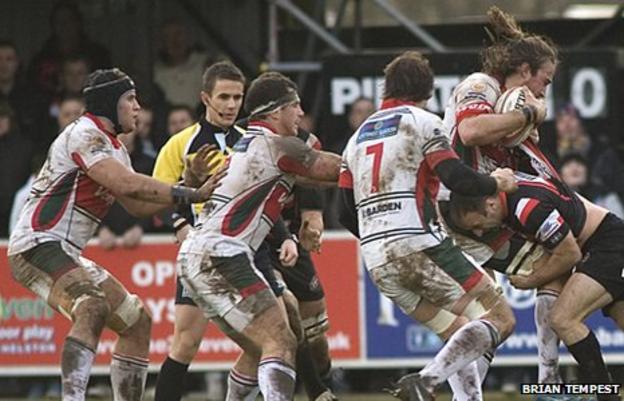 Plymouth Albion chairman Graham Stirling is calling on the club's shareholders to invest in the team in order to save it from administration.
The club has found itself in financial difficulty as gates have dropped by 20% and the commercial income has been affected by the economic downturn.
"It's a very doable sum of money, we believe," Stirling told BBC South West.
"It's an amount of money we need putting in place to ensure our future at Championship level."
The club's financial issues came to light following the departure of head coach Pete Drewett and coach Phil Greening.
The pair were paid for by a sponsor who then withdrew his investment after looking into Albion's finances as part of the deal.
"We've got the shareholder meeting tomorrow (Wednesday) but we're also talking to a lot of people at the moment to try and bring in some new investment," Stirling continued.
"We'll speak to the shareholders and we'll bring them fully up to speed.
"It is depends on the good will of bringing those investors on board, but it is looking reasonably promising at this stage."
The club has faced financial problems in the past. Three years ago players were asked to take a pay cut as the club struggled with its cash flow and in April 2010 the club put out an appeal for £100,000 in a bid to stop it from going into administration.
The club has existing debts from the redevelopment of their Brickfields Stadium, but Stirling says that debt is being serviced and will continue to be paid off.
"There is legacy debt but we service that debt, we can continue to do that, it's getting the working capital.
"What we need now is get that injection of working capital, we've had a positive response to date and we've got positive discussions."
While Dr Stirling is confident that the club will find the investment that is needed, he said there was a possibility that if no money could be found then the club could go into administration.
"There's always a danger, we have to be trading legally, we can't be insolvent.
"It's something we think we can realistically raise and do in the time frame," he added.
But one investor in the club told BBC South West that the figure Albion needs in order to be clear of debt and have a strong amount of money to invest in players in nearer to half a million pounds.
"Graham is working his hardest to try and put a rescue package together.
"There are 140 shareholders of Plymouth Albion and there are a good few of them who are quite wealthy people and if one or two of them are minded to put a rescue package together they will sort it out."