Ospreys coach Sean Holley considers new role
Last updated on .From the section Rugby Union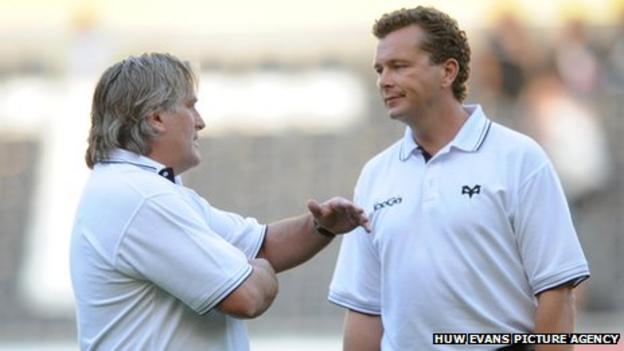 Ospreys head coach Sean Holley has not ruled out wanting to become director of coaching when Scott Johnson leaves at the end of the season.
"From a personal point of view I've done a lot of coaching in my career. I've done a lot of on-field stuff. I'm happy to continue that," said Holley.
"But in my personal career then I'd have to think about moving to a slightly different role."
Holley, who has been at the region since its inception in 2003, added: "That's nature taking it's course.
"We will have to wait and see. I'm currently happy with what we are doing.
"Johnno does offer us a lot on the field, so clearly we then would want another body, another voice in some department."
Chief operating officer Andrew Hore has said the Ospreys are considering whether to appoint a direct replacement for Johnson, who was appointed in April 2009.
He revealed the claims of Holley and forwards coach Jonathan Humphreys will also be assessed.
Holley said: "I don't know whether the board feels that role is needed. Scott was originally brought in for a three-year period to help Jonathan and I nurture our coaching.
"It's up to them to assess whether that role is needed, whether we need further development.
"I have a job description and I've got another two-and-a-half years.
"I'm happy to fulfil a role at the Ospreys as I always have done and we have had some success in that time but that's up to the board to decide.
"It's not just on the field; there's a lot of off-the-field things. We need some facility development. Scott and Andrew have put a lot of systems and structure in place and some of those things need some continuation to allow a coaching team to focus on the field.
"So they may feel that needs to be continued. They may feel they may need a different role, I don't know.
"All I know is I've got a couple of years in my present role and I'm happy to fulfil it."