Northampton Saints' Stephen Myler backs rugby league side
Last updated on .From the section Rugby Union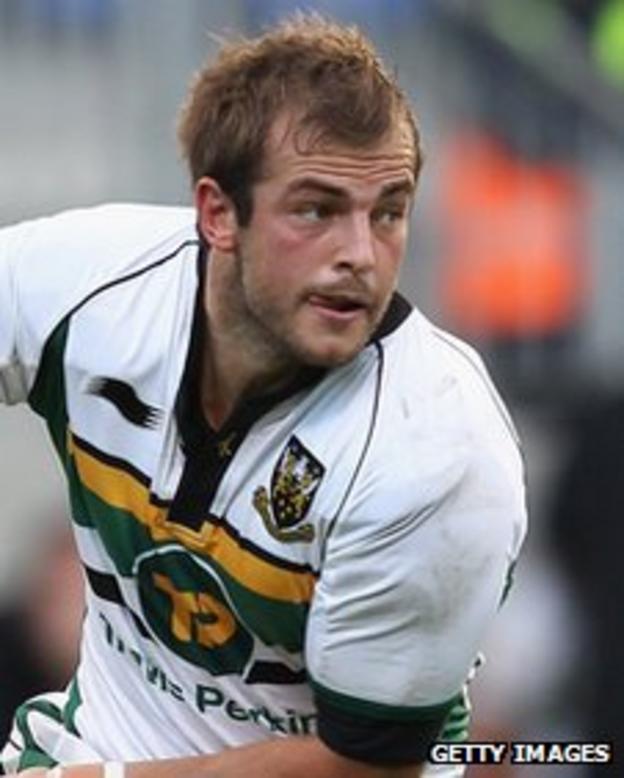 Northampton Saints fly-half Stephen Myler has backed the Northampton Town rugby league team forming in 2013.
The 27-year-old made the switch from league in 2006, having played for home town cub Widnes and Salford.
Myler told BBC Radio Northampton: "As knowledgeable and enthusiastic rugby supporters, I'm sure Saints fans would enjoy watching a game of league.
"It can be very entertaining and it may appeal over the summer months, when the Saints are in off-season," he added.
"Crossing over was more difficult than I thought it would be.
"The games are totally different. But, having played both, I can honestly say that I love both codes, which is something I didn't think possible before I'd actually played and started to learn union.
"I'd certainly recommend trying your hand at both codes."
The team, based at Northampton Town's Sixfields home, will play at semi-professional level in Championship One, two rungs below Super League.
"It could possibly be more difficult with there being a few other sporting teams in the town," said Myler, a cousin of Warrington scrum-half Richie and nephew of Widnes legend Tony.
"But, with the town sustaining these teams at the moment, it just shows how much the town enjoys sport, so that is definitely a positive thing."
Northampton Demons, who enjoyed Co-operative Conference Regional success in 2009 and 2010, are the town's current rugby league side.
But their former chairman Andrew Quirke says theywill not regard the formation of Northampton Town's league side as unwelcome competition.
"There's no bitterness at all," said Quirke. "I wish them every success. They've got the infrastructure and the stadium.
"I'm delighted someone's come on board earlier than we could and tried to make a semi-professional team in Northampton.
"But I think it's imperative that the Demons retain their own identity. In five years, there may be a full merger, but my advice would be to stay as two separate entities."
Quirke agrees with Myler that the East Midlands patch can sustain a successful league club, and says that it is an initiative he would like to be involved in.
"You've got rugby players by the thousands in the region," he said. "I'm sure there are guys playing union now that could make a success of it at league.
"I've learnt a lot over the last five years and I think I've contributed a lot to the local rugby and regional scene.
"Hopefully I'd have a lot to offer to the Cobblers."