Ignacio Mieres hopes to extend Exeter Chiefs contract
Last updated on .From the section Rugby Union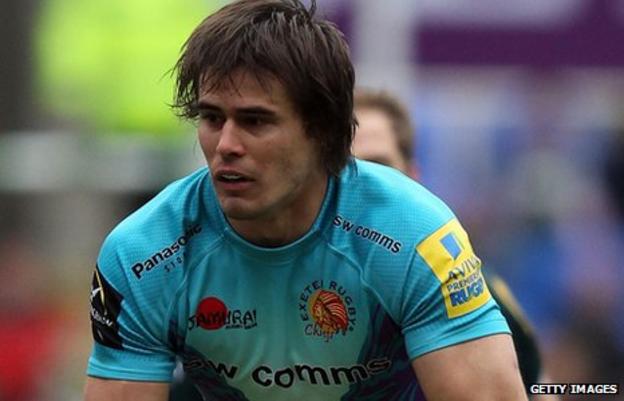 Argentina international fly-half Ignacio Mieres says he wants to extend his deal with Exeter Chiefs.
"I would definitely like to stay here, it's a very nice club and I like and I share the way they work and they think," Mieres told BBC Radio Devon.
"I like the way we work, it feels good, why would I change if I'm happy here?"
Mieres, who was not part of Argentina's 2011 Rugby World Cup squad, has been Exeter's first-choice fly-half this season and is the fifth-highest scorer in the Premiership with 152 points.
Chiefs assistant coach Ali Hepher has revealed the club are in discussions with Mieres over extending his stay.
"We're obviously talking with Nach, as we have been all the way through," he said.
"It's ongoing, as all our other recruitment is, things like that will get sorted out in the near future.
"He's a fantastic guy to have around, his work-rate is second to none, he's got a kicking percentage of over 80% and there's not too many of those around."
One of the factors that will play into Exeter's thinking is Argentina's 2012 international campaign. They have 12 Test matches scheduled between June and November, both in Europe and the Southern Hemisphere.
Should Mieres be selected, he would miss the first half of the Premiership season as well as pre-season.
"Obviously it's a factor, it's changed this year. We've got to work through and assess what the right thing is for the club and also the players as well," Hepher added.
While Mieres is committed to the Exeter cause, he says he would love the chance to represent his homeland on the international stage once again.
"That's one of my dreams, I would love to play for my country. It's one of the best things a player can have," he said.
"If in the future they call me for the Pumas team it would be amazing, but right now I'm not thinking about it, I'm just trying to focus here."