Graham Dawe tight-lipped on Plymouth Albion return
Last updated on .From the section Rugby Union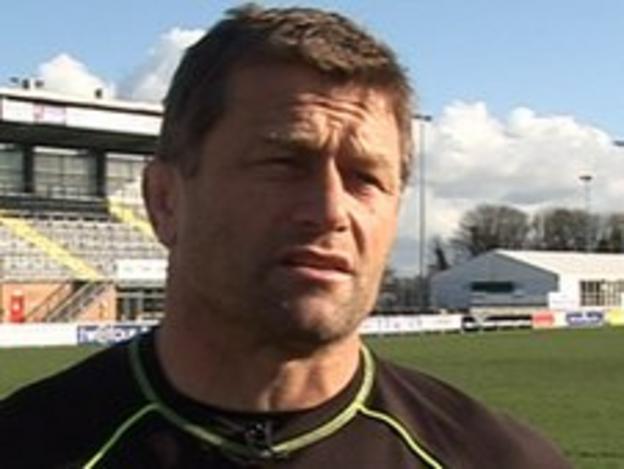 Former boss Graham Dawe has not ruled out returning to Plymouth Albion.
But Albion have no-one in full-time charge of the squad after Pete Drewett was forced to leave the club after the sponsor paying his wages pulled out.
When asked if he would return to the Brickfields on BBC Radio Devon, Dawe said: "That's not a situation that has arisen at the moment so we'd just have to wait and see I guess."
The club held a shareholders meeting to discuss ways of plugging a gap in Albion's funding.
The board say the club need around £200,000 to survive, although sponsor Nigel Passmore, who looked over the books as part of a failed sponsorship deal, says the figure is nearer to £500,000.
"It's a professional sports club and it does need cash all the time to keep going," Dawe said.
"To play rugby at this level you need a few good players and unfortunately they cost money. To run a club at this level is an expensive business."
Albion are second-from-bottom in the Championship but Dawe says the off-field problems might unite the side and improve results.
"It's tough enough fighting on one front, the field of play. But now they're fighting on two fronts, that's going to be tough as well.
"Sometimes these things can galvanise a club. It's a club with a rich history and has had some fabulous players over the years that have played for it, not only in the last 10 years, but in the last 100 years.
"They've got a massive fight on their hands and if they keep the players fit there's a lot of good players. There's a lot of young, exciting players as well - they're enthusiastic and they've had to learn and grow up very quickly."