'Angry' Brian Smith defends England coaching role
Last updated on .From the section Rugby Union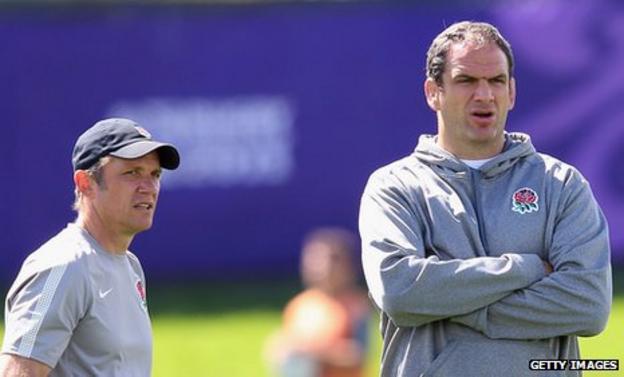 Former England attack coach Brian Smith, who was criticised in leaked reports into the team's dismal World Cup, has defended his role.
Smith left his post following a tournament beset by on-field failings and off-field disciplinary problems.
"I was pretty angry about the way things were presented," the 45-year-old said of the reports.
"Did I coach well enough? Did I contribute to the best of my ability? I think I did pretty well."
Following England's disappointing World Cup, which saw them knocked out at the quarter-final stage, separate reports were commissioned by the Rugby Football Union, the Rugby Players' Association and the Aviva Premiership clubs into what went wrong in New Zealand.
When extracts from those reports were leaked, manager Martin Johnson's coaching team came in for some of the harshest criticism.
Smith resigned almost immediately and defence coach Mike Ford and forwards coach John Wells left the RFU in December.
Asked where blame lay for the team's failings, one unnamed player reportedly said: "It wasn't Johnno [Johnson]; it was that Johnno was surrounded by the wrong people."
Among other things, Smith was accused of "not understanding the game well enough", being "uninventive" and "not offering anything".
"That episode was very difficult, not least for my wife," Smith told the Independent.
"The only good thing was that it didn't affect my kids, them being so young [Smith has three children under the age of five].
"Last year only two international sides scored more tries than England - New Zealand and Australia - and we won 10 of our 13 games. I simply don't accept this idea that we produced a stagnant side.
"People who don't get what they think they should out of a situation... they've always taken pot-shots and they always will."
England's off-field disciplinary problems were the greatest source of controversy during the tournament, with Mike Tindall caught up in a media storm after one team bonding session.
Smith denied that the incident had any bearing on results on the pitch, but acknowledged its damaging impact.
"The Tindall thing took on a life of its own, but as coaches we were in our own bubble and didn't realise it was gathering such momentum," he said.
"Yes, it caused a problem, but I don't see it as the reason things didn't work out for us.
"In the end, we lost control for a 20-minute period against the French, and if you lose control in a World Cup quarter-final you're in trouble."