Scott Johnson news 'hit Ospreys morale', says Sean Holley
Last updated on .From the section Rugby Union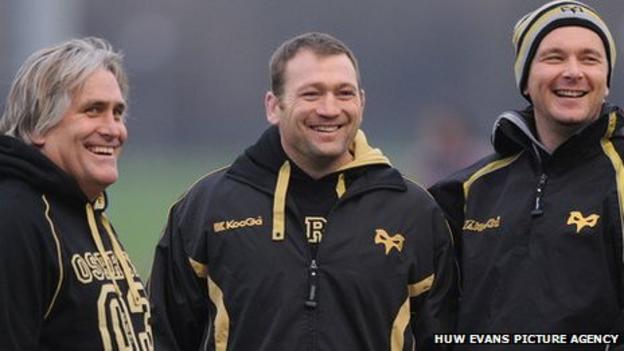 Sean Holley admits news of Scott Johnson's departure at the end of the season affected the Ospreys' morale.
The head coach says the issue has since been dealt with and he has backed Johnson to see out his contract.
Holley was responding to Scrum V pundit Jonathan Davies's view that Johnson should leave immediately to take up his new role as Scotland assistant.
"I think Johnno would probably feel there's still a bit of work to do yet," said Holley.
However, Holley says squad morale was hit by news of Johnson's decision to become Scotland boss Andy Robinson's right-hand man.
"I think it has [affected morale], I think it will have had [an effect]," said Holley.
"And the period of the announcement - it came in line with things like the salary cap announcement.
"So there was a bit of a period there and coinciding with over Christmas.
"But the mourning has been done, the understanding is over with and we've talked over this last week or two about moving on and finishing the rest of the season strongly.
"We realise we're employed to do a job and we're going to do it to the best of our ability and again I think Scott will want to play a big part in that.
"So that's the way we're looking, really, is trying to look forward for the rest of the season."
The Ospreys host Treviso in Heineken Cup Pool Five on Friday with their slim hopes of quarter-final qualification resting on a win in that game and the one that follows in Biarritz, plus the outcome of other games going their way.
Davies believes the Ospreys have stagnated since Johnson's first season in charge and that Johnson should leave so that Holley and forwards coach Jonathan Humphreys can stake their claims to taking over on a permanent basis for the start of the 2012-13 season.
Holley understands the point made by the former Wales fly-half, but says Johnson has already handed over some responsibilities to his charges and is likely to do so again as the season progresses.
"Johnno's been really good in giving up some responsibility in nurturing our coach development and that's probably the main reason he was brought in," said Holley.
"He is seen on the field and he does drive big aspects of our game, but I'm sure now he will want to see out the season and offer us, perhaps, a little bit more responsibility rather than up sticks and going early doors."
Johnson, a former Wales skills and assistant coach, left the role of USA Eagles national coach to join the Ospreys for the start of the 2009-10 season.
The Ospreys have yet to decide on whether to appoint a successor to Johnson.
If they do, they face a decision over whether to do so from within or recruit a new coaching boss.