London Irish's Booth unable to stop Armitage or Kennedy exits
Last updated on .From the section Rugby Union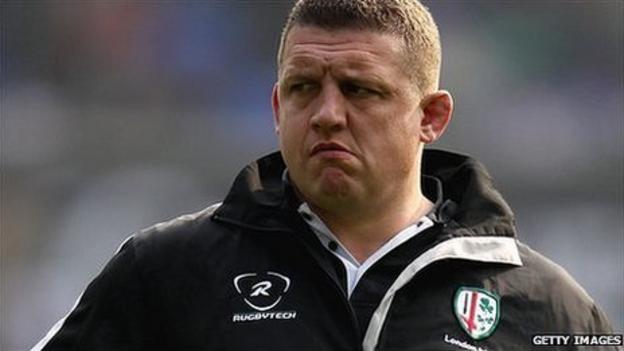 London Irish head coach Toby Booth says the potential exit of star duo Delon Armitage and Nick Kennedy to French side Toulon is out of his hands.
Reports last week suggested the pair would leave the Exiles at the end of the season.
"It's now with their agents," Booth told BBC Radio Berkshire.
"In Delon's case there is a break clause in his contract, which he can initiate so we know where we are and we are now waiting for Delon's response."
England's interim coach Stuart Lancaster is expected to name his Elite squad on Wednesday and Booth believes that may have an impact on full-back Armitage's decision to move to France at the end of the season.
"I'm sure the EPS announcements will have a consequence on his decision, I would have thought," added Booth.
The Exiles boss added that he felt forward Kennedy would consider all his options before deciding to leave the club he has been at since 2001.
"Kendo has always been at the club in the 10 years I have been here," he continued.
"I'm sure if he decided to leave the club it will not be a decision he will make lightly."
Meanwhile, Booth believes that Exiles hooker David Paice has done enough to earn himself an international recall.
"He's commanded a dominant scrum and his throwing has improved," Booth told BBC Radio Berkshire.
"Everyone is always talking about his dominance in the loose so from that point of view it is great that he is back to his best. Only Staurt Lancaster knows what he wants, but I am sure he will be involved somewhere along the line."