Cardiff Blues chief Richard Holland dismisses Arms Park return
Last updated on .From the section Rugby Union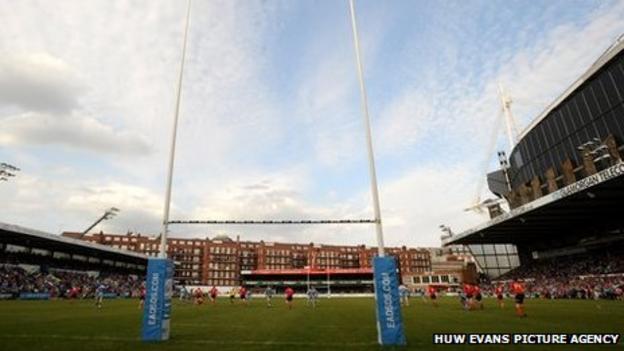 New Cardiff Blues chief executive Richard Holland has dismissed the idea of leaving Cardiff City Stadium to return to play at Cardiff Arms Park.
In December joint head coach Gareth Baber suggested the Blues could make the move back to the city centre to combat falling attendances.
But Holland said: "My brief is to make it work at the Cardiff City Stadium, full stop."
The ex-Chepstow Racecourse boss hopes to attract new and stay-away fans.
Dedicated valleys fans of clubs such as Pontypridd, whose top-flight status ended in the wake of the launch of the nation's regions in 2003, have not warmed to the Blues.
And when the team switched from the traditional Arms Park home of Cardiff rugby, some diehard fans also turned their backs on the region.
Holland now hopes to persuade the rugby "critics" of Cardiff City Stadium to give the venue a chance.
He added: "It's very accessible. We go to great lengths or have gone to great lengths to try and make it easier by providing free shuttles [buses] to and from Cardiff.
"The football gets big crowds and people turn up and that's what I want to happen at the rugby as well.
"I want to re-engage those critics that are not too keen on the Cardiff City Stadium and… I also want to look at how we can open ourselves up to a new market as well.
"It's a fantastic product. The stadium's absolutely brilliant… and the team need people to come and support them.
"It's a chicken and egg scenario, really, isn't it? Whilst people aren't coming, it's people that create the atmosphere.
"So perhaps they need to take a look at themselves and come down and create the atmosphere.
"There's a large population in our region and we need to engage them all and that goes through the community and it goes right the way out to the four corners of our region.
"And I'll be ensuring that we do that and hopefully that will bear fruit."
In 2009 the Blues moved to Cardiff City Football Club's new home as tenants.
But they have struggled to generate an atmosphere and had a crowd of only 6,102 for their last home Heineken Cup match, a 25-8 Heineken Cup win over Edinburgh.
In May 2008 the Blues signed a deal to play all their home games at the stadium for the following 20 years as Cardiff City's tenants.
In the first two seasons of their existence at Cardiff City Stadium, the Blues crowds averaged 10,000-11,000.
Cardiff RFC have continued to play at the city centre Arms Park in the Welsh Premiership since the Blues moved two miles to the edge-of-town development at Leckwith.
Cardiff City moved across the road from Ninian Park to the new stadium and have continued to enjoy solid support at their new home.
Elsewhere in Welsh rugby, Swansea City have stronger match-day backing than their Liberty Stadium co-inhabitors the Ospreys.
The Scarlets have also had difficulty filling Parc y Scarlets since moving there from Stradey Park.
Newport Gwent Dragons have remained at their traditional rugby home of Rodney Parade and have begun to redevelop the site.