Dave Penberthy to step down as Redruth director of rugby
Last updated on .From the section Rugby Union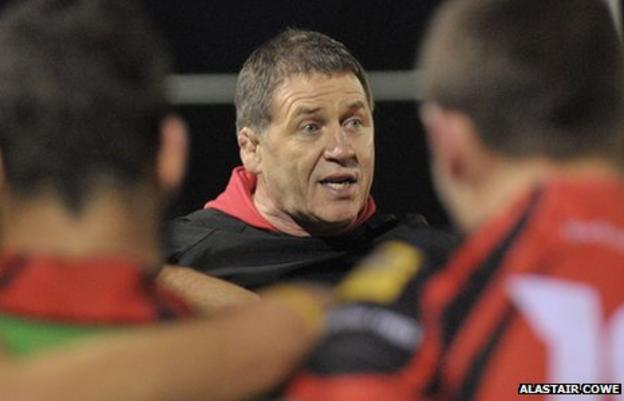 Redruth director of rugby Dave Penberthy is to step down at the end of the season after 10 years with the club.
Penberthy became team manager in 2002, rugby manager in 2004 and took up his current role in 2007.
He says the focus of the club has changed in recent years and there is no longer a need for a director of rugby.
"Traditional ways of running rugby at this sort of level are much different than in previous seasons," he said.
"I don't believe there is a meaningful role for a director of rugby anymore and a lean structure with a good coaching team ably assisted by a good admin person in the role of a team manager is the way forward.
"The financial aspects need to be managed outside of the rugby and now is the time for that to happen," he added.
Redruth have had financial problems this season, with players not being paid fully in October.
Penberthy led the club to the brink of promotion to the Championship in 2009 but saw the side slip down to national Two South at the end of last season.
As a forward he played more than 700 games for the club while his father also served as president.
"David will be an extremely hard act to follow so the executive committee will take the opportunity to re-examine the way rugby is organised and managed for the 2012-13 season," said club secretary Roger Watson.
"We are very grateful for the huge contribution Dave has made over the years and for giving plenty of notice of his decision to stand down allowing the club to make a smooth transition as we plan for a successful future."
Penberthy has recently been appointed by the RFU to run the South West's junior side and will continue in that role.
"I still intend to watch Redruth and support them from the sidelines with friends," Penberthy added.
"I have my RFU role with the South West Division which will keep me well occupied as well, plus I would like to watch my son play, wherever that may be.
"Redruth will always be my club, I love it and have given all I can in trying to make it as successful as it could be."