Cornish Pirates beat Esher 36-30 in Championship
Last updated on .From the section Rugby Union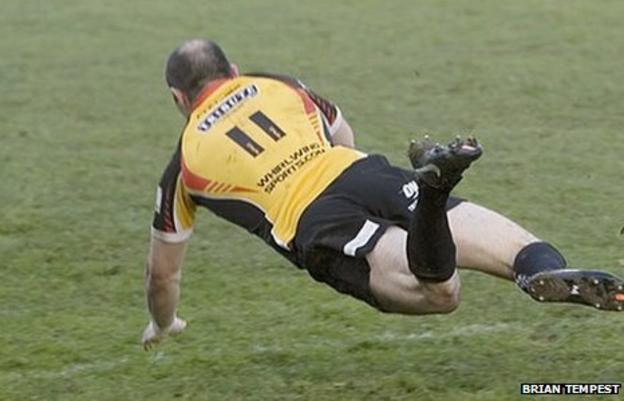 Cornish Pirates forwards coach Ian Davies has criticised the referee after his side's late 36-30 win over bottom side Esher in the Championship.
The Pirates were 17-0 after 20 minutes but fought back with tries from Paul Andrew, Chris Morgan and David Doherty to go in 20-19 down at half time.
Ross Chisholm and Philip MacKenzie's tries put Esher 30-22 up before Aaron Penberthy got a first Championship try.
Doherty got his second try with seven minutes left to seal the comeback win.
"We started poorly, then we got some control, then the merry whistle blower decided that the result wasn't going the way he wanted, and got involved," Davies told BBC Radio Cornwall.
"There were some mysterious penalties which we need to have a look at and discuss because I certainly couldn't see what they were for."
Davies was particularly unhappy with the second half where referee Michael Tutty awarded penalties for infringements in the scrum.
"We pride ourselves on the set piece and the scrum, a couple in the first half I had not got a problem with, Paul Andrew got penalised quite rightly.
"Second half it seemed to be a mystery, but it was more the breakdown and his communication at the breakdown that was confusing for both sides.
"I heard Mike Schmid (Esher coach) say in his interview that the breakdown is a bone of contention and it's something that as a coaching team we like to get the referees to get consistent and they're certainly not at the moment."
But Davies was full of praise for fly-half Aaron Penberthy as the 19-year-old made his first start in the Championship.
"The players enjoy playing with him because his communication skills are good, yes he's a young lad but he's been a leader at Redruth for a couple of years now and you could certainly see that in his play," he added.
"As a forward he gives you go-forward, it's always pleasing when your 10 kicks the ball 50 metres down field after a scrum or lineout maul or something and you look up and you're going downfield at a rate of knots.
"But I thought his passing, and his range of passing, was really good as well and hopefully he'll get a run of games, his confidence will grow and we'll see his full potential."