Rory Lamont apologises after Twitter blast at Barack Obama

By Annie McGuire
BBC Scotland
Last updated on .From the section Rugby Union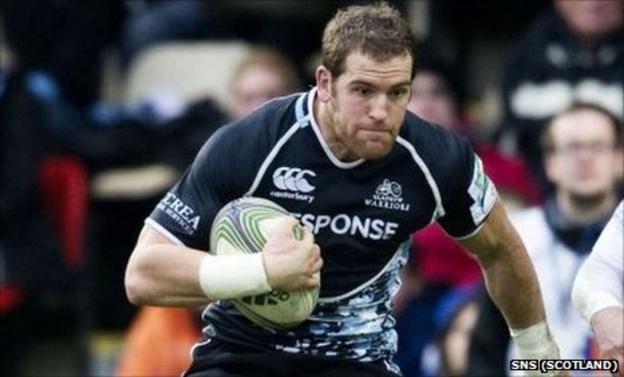 Scotland and Glasgow Warriors winger Rory Lamont has apologised after describing Barack Obama as a "whore" on a social networking site.
The rugby international has used his Twitter account to make disparaging remarks about a number of politicians.
These have included the United States president, Prime Minister David Cameron and German Chancellor Angela Merkel.
The Scottish Rugby Union has described the language as "inappropriate" and the 29-year-old has apologised via Twitter.
"If I have ever caused any offence from the language used in my tweets, I do apologise," he said in his latest entry.
On 4 January, Lamont praised Ron Paul, a candidate for the 2012 Republican Party presidential nomination, saying: "He doesn't work for Wall Street like that whore Obama."
In March, Lamont used industrial language to urge Cameron to "pipe down" over the bid to oust the then Libyan leader Colonel Gaddafi.
And, despite his SRU employers being sponsored by Royal Bank of Scotland, Lamont has also tweeted against bankers and compared the rise of Germany during the Eurozone crisis to Hitler's Third Reich.
Lamont, who rejoined Glasgow last year after spells with Sale Sharks and Toulon, has been capped 26 times for Scotland and was named in Andy Robinson's latest squad for the Six Nations championship.
Speaking on BBC Radio Scotland's Sport Nation programme, Scottish Rugby director of communications and public affairs Dominic McKay said: "If we're to embrace this medium and we are embracing this medium, we need to recognise the pitfalls and the challenges from inappropriate comments.
"[Twitter] gives you the opportunity to correct a wrong quite quickly and it's quite appropriate in this case that Rory came straight back on Twitter to apologise.
"We believe players must adhere to our guidelines. We've a very clear view, which is: 'you're acting as an ambassador for our sport, you've got to promote the sport appropriately; at the same time we want you to engage with fans'.
"His comments were completely unacceptable and he recognises that and has apologised for that."
Lamont's actions will be particularly disappointing to the governing body considering Scotland team media manager Graham Law last year issuing a warning to its players over their use of social media.
"Remember, with Twitter, Facebook, etc, it is not about you, you are representing Scotland," he said.
"So you have got to understand that your comments, your photos, your videos will be seen and circulated by more than just your friends."
Several less well-known Scottish footballers have been sacked by their clubs in recent months after making racist or sectarian remarks on social networking sites.
Celtic manager Neil Lennon, who has himself been the victim of internet abuse, said he advises his players to avoid controversial subjects outside their own sport.
"I can't talk for other sports, but for my own players, I like to keep it football-related and simple, otherwise you leave yoruself open to all sorts of criticism or a backlash from other people," he said.
"I would rather they kept their views on other areas of their life private and stick to what they know."
However, Lennon joked: "I don't think our players are intelligent enough to talk about politics anyway, so I think we are on pretty safe ground there."