Richard Cockerill backs himself as Leicester Tigers boss
Last updated on .From the section Rugby Union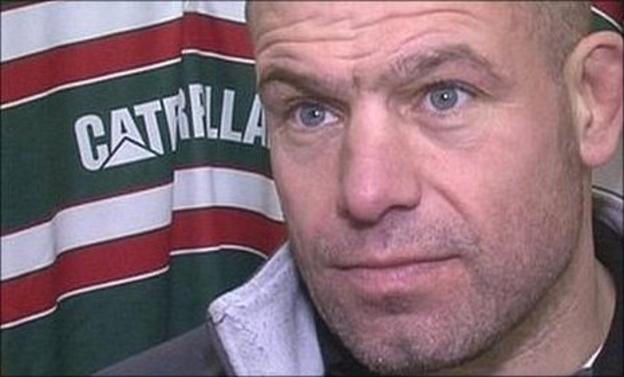 Leicester director of rugby Richard Cockerill says he has complete faith in his ability and does not fear the sack.
Tigers seem certain to go out of the Heineken Cup following last Friday's defeat against Ulster and there were rumblings of discontent from some fans.
But Cockerill told BBC Radio Leicester: "I will not give in at the first sign of hardship. We will work through it.
"I know I do a good job. There isn't a better record in the Premiership in the last three or four years. Fact."
Tigers are third in Pool Four and cannot top their group and guarantee automatic qualification for the quarter-finals.
They will need a bonus-point victory over Italian strugglers Aironi at Welford Road to give themselves any chance in the race for two best runners-up spots.
However teams in other pools appear better placed and Leicester's hopes seem slim.
"If you look at the hard facts then we are out of Europe unless there is a miracle this weekend," Cockerill added.
"Does that mean we are a completely hopeless side? Certainly not. We have lost to two good sides away from home but have beaten both those sides at home.
"In the last 13 games, we have won 10 and drawn one. You can paint the picture as disastrously as you like or as positively as you like."
Cockerill says a combination of the salary cap, the fact his side have to contend with a lengthy injury list and a raft of international call-ups for the World Cup have had a huge impact on their season.
But he is adamant his record at Welford Road speaks for itself.
"I do a good job and the players do a good job," Cockerill added.
"We want to be in Europe in the knockout stages. This year, for lots of reasons, we have not been good enough. That's my fault, I am the person to blame, but there are lots of circumstances around that.
"The three years I have been in charge we have have finished top of the table three times. Last year we scored the most tries in the competition and the two years before we were the second highest scorers.
"I still get complaints about how boring our style is but it's nonsense. I've taken this side to a European final - that's four finals in three seasons. I'm doing a good job. Sometimes it's hard and you'd like it be better, but that's life.
"I'm just working as hard as I can and the only pressure I feel is the pressure I put on myself is because I want to be as good as I can be and make the team successful.
"If I get the sack because we didn't qualify than I cannot control that. But as far as I am aware I have full support [of the club]."