Jersey were 'not fully prepared' for late fans
Last updated on .From the section Rugby Union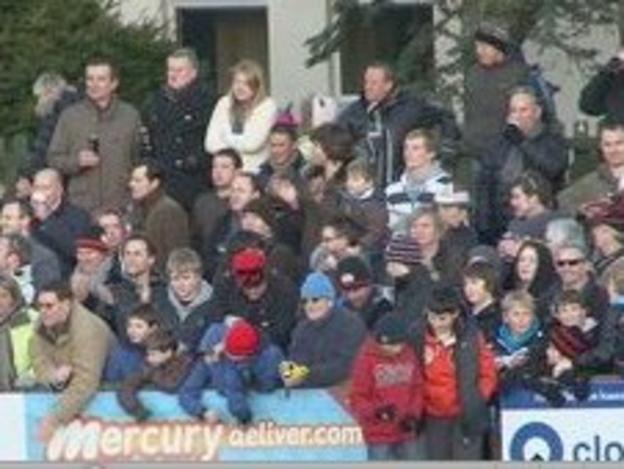 Jersey Rugby Club were not fully prepared for the late flurry of fans at Saturday's top-of-the-table match, chairman Bill Dempsey has said.
Supporters were queuing outside well after kick-off in the game against Rosslyn Park after traffic problems.
The islanders are hoping introducing new entrance gates for their next match at St Peter will help avoid a repeat.
"We weren't prepared for that many people to come in between half past two and three o'clock," said Dempsey.
The 3,648 fans at Jersey's 20-18 win was well above their season average which now stands at 1,938 - by far the biggest in the division and higher than many Championship sides.
There will be extra gates open for members for Saturday's game against Cinderford and the club are encouraging spectators to get to the ground early.
"The let down for us last week was that we needed to have people coming in through the gate quicker," Dempsey told BBC Radio Jersey.
"We had extra parking and we had extra people on duty.
"We did open a gate at the side of the pavilion for about 10 minutes which really helped that side, but not realising there was a queue halfway across the Jersey Bowl car park.
"So we have taken measures this week to hopefully speed that up."
Jersey go into Saturday's home match as National League One leaders and are looking to extend their 13-game winning streak.
It is a run of form stretching back to the start of October when the islanders were beaten by this weekend's opposition, Cinderford.