Heineken Cup: Gareth Baber relishing Blues' Leinster clash
Last updated on .From the section Rugby Union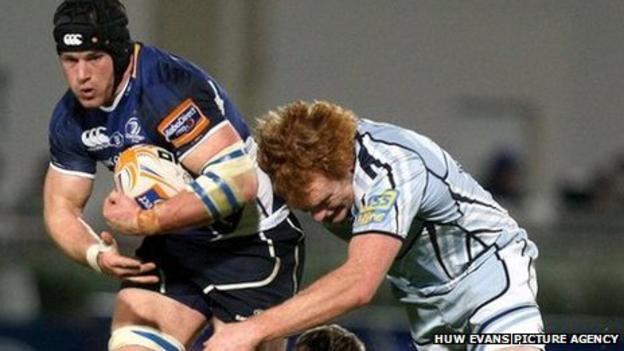 Cardiff Blues' joint head coach Gareth Baber is relishing their Heineken Cup quarter-final against Leinster in Dublin even though they were "spanked" there earlier this season.
The Blues lost 52-9 in Dublin in the Pro12 League in December and return to face Europe's reigning champions in the last eight of the competition in April.
Baber's side beat Racing Metro on Sunday to reach the knock-out stage.
"It's going to be a huge occasion for us going out to Dublin," said Baber.
"Especially after the fact that we went out there earlier in the season and we got a spanking.
"But that's what we're doing. That's what we're in it for."
It has been confirmed the Blues will play Leinster in their quarter-final on Saturday, 7 April with a 1745 BST kick-off.
The Blues' Pool Two rivals Edinburgh won the group by a single point after scoring a late try to secure a bonus-point win over London Irish.
It left the Blues with bittersweet emotions having beaten Racing, knowing that one more try would have taken them to the top of the group and given them a home draw in the last eight.
If the Blues overcome Leinster they will face either Saracens or Clermont Auvergne in the semi-finals.
Baber added: "These games are tight and they're tight right up to the wire, as it was today [Sunday] - so in fairness to Edinburgh, them getting their fourth try in the 77th minute.
"We endeavoured to get one, but equally so right at the end we could have lost the game.
"And that's the level these boys are playing at and I'm just proud that they were able to play in that pressure and they were able to make the decisions that got us the victory.
"What you don't lose sight of is just how much work we've done in this European Cup and so have Edinburgh and they were good for it.
"They beat us up there, they've been a good outfit all season when we've played them and we're just proud as a group that the performances we've put on."
The Blues ended their Pool Two campaign with five wins from six games, and will be the sole Welsh region in the next round.
"Let's face it, we only lost once and the performances we put together have put us in this position," Baber added.
"We met a big, physical Racing side today who were on their mettle. We managed to score three tries, but we couldn't sneak a fourth.
"I think Racing wanted to sign off from this season's tournament by putting as much pressure as they could on us.
"We have got a character and ability about ourselves that manages to win games, and we are working hard as a group to make sure we develop our game.
"There is a huge amount of talent and experience in that changing room.
"Let's not forget we were one try away from taking the whole bag of what we needed."