Six Nations: Scotland's Andy Robinson motivated by English arrogance
Last updated on .From the section Rugby Union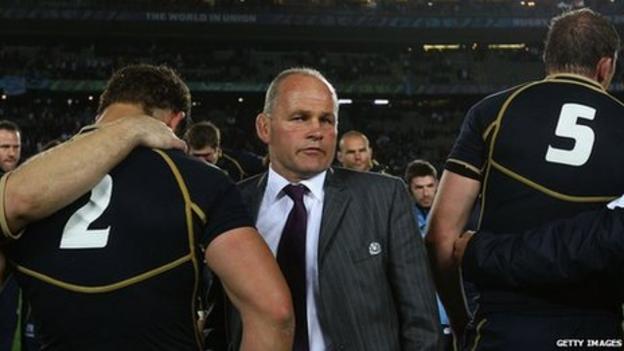 Scotland head coach Andy Robinson has vowed to use English "arrogance" to motivate his players ahead of the Six Nations opener at Murrayfield.
Robinson was angered by the behaviour of England players when the sides met at the World Cup in New Zealand.
And the former England coach has revealed he intends to use that experience as motivation before the Calcutta Cup clash on 4 February.
"You use every emotion; that is what rugby is about," he said.
Defeat by England led to Scotland's exit from the World Cup last year at the pool stage for the first time.
"It's an emotional game, it's a passionate game, it's a physical game and you've got to channel all that into your performance and that's what we'll be drawing on in the lead-up."
However, Ross Ford, the newly appointed Scotland captain, insisted that the way for the Scots to earn respect from England was to outplay them on the pitch.
"For me, the focus now is about earning respect from teams by our performances," he said.
"That starts from us delivering on the pitch. That's the only way, for me, now the team moves forward."
Robinson faces a new opponent in Stuart Lancaster, appointed England interim coach following the departure of Martin Johnson.
"You face that every Six Nations, where teams will bring something new. We've just got to focus on ourselves and what we're going to do," said Robinson.
"We've got to control what we can control."
Robinson is looking for his side to record two victories from as many games at the start of their Six Nations campaign.
"We don't want to get into a situation that we've been in in the last two Six Nations with me in charge with us coming to the last game not having won," he added.
"We understand the pressure that's there. I'm building the pressure on that because we can't hide from it."
Key to success for Robinson will be whether Scotland can improve their try-scoring rate - something which has proved problematic for the Scots in recent years.
"What we need to do is keep creating those opportunities but have the clear thought process and the skills to be able to finish those and get over the line," Robinson said.
"I believe that we will be able to improve and take those opportunities."
Ford, meanwhile, rejected concerns that he is too quiet for the captain's role.
"I don't think I need to need to speak any more than I usually do," he said. "I'm very much about leading by example.
"If I feel that something that needs saying that will take the group forward, I'm quite happy to say it."