Six Nations: No conflict of interest for Andy Farrell over son Owen
Last updated on .From the section Rugby Union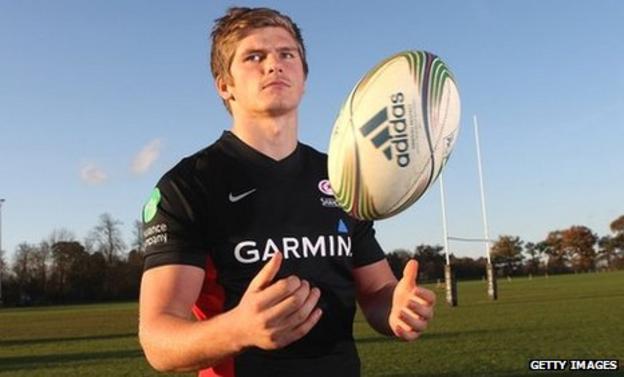 Andy Farrell will put family ties aside in helping to decide if son Owen makes his first England start in next week's Six Nations opener against Scotland.
Farrell Sr, assistant to interim coach Stuart Lancaster in the England set-up, will have a say in whether his 20-year-old son wins a first international cap.
But he insisted: "We will discuss what's right for our philosophy of play and we'll pick a team accordingly.
"He's a player I coach just like the rest of the players."
Ahead of next Saturday's annual Calcutta Cup clash at Murrayfield (4 February, 1700 GMT, Live on BBC 1), the Farrells have been experiencing their first senior England training camp over the last four days at West Park RUFC, just outside Leeds.
But, as he contemplates the possibility of stepping up from club rugby with Saracens to the international stage, Farrell Jr insists there has never been a problem with being coached by his father, a rugby league legend for Wigan and Great Britain before switching codes late in his career.
"I forget that he's my dad," said the promising Saracens youngster.
"Even when he wasn't a coach and he came and watched me play and talked to me after the game about what I had done right and done wrong, it wasn't any normal dad speaking to you.
"He has had massive experience, so you respect what he says.
"I'm not trying to live up to what he has done either. I'm my own player, I take things from what he has done in the past and I've tried to learn from what he has done and ask him questions and that has stood me in good stead."
For Farrell Sr, still only 36, his England role gives him a chance to make up for a playing career that only ended in 2009, due to injury, when had won just eight England caps.
"My playing career didn't go quite as swimmingly as I would have liked as far as union is concerned," he added. "So it was part of the reason why I wanted to get back into it.
"It was all planned out to do a good few years but, with injuries and so on, it didn't go according to plan so to get another chance to be involved in the international scene in as big a competition as the Six Nations is great.
"I wouldn't say I had unfinished business. It's just a great environment to be in. It's the top of the tree. It doesn't get much better than the Six Nations. It's a Grand Final every single week. Sold-out stadiums, unbelievable atmospheres, brilliant players all going at it and everybody wants to be a part of that."