England Women name young line-up for Six Nations opener
Last updated on .From the section Rugby Union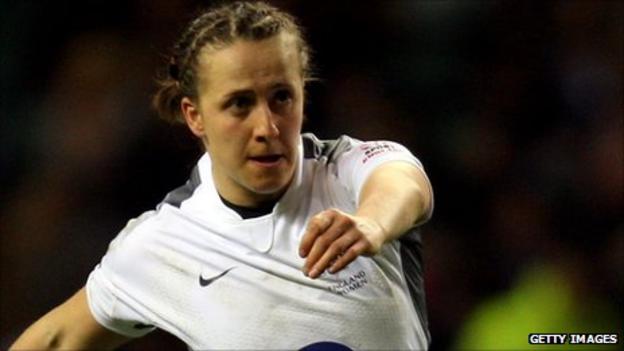 England have named a young squad as they begin the defence of their Six Nations title against Scotland.
Harriet Millar-Mills and Hannah Gallagher, with only a handful of caps between them, make the starting XV.
Isabelle Noel-Smith, Ceri Large and Lichfield's uncapped lock Emily Braund will be on the bench for England.
Head Coach Gary Street said: "I think this is actually going to be the toughest Six Nations we have experienced in quite some time."
England, who are bidding for a seventh consecutive Grand Slam, begin with a clash at Scotland on 5 February.
Street added: "I think if we can put the performances in then hopefully the results will take care of themselves.
"Following our series win over the world champions New Zealand we have set ourselves a high bar to live up to and for us it will be disappointing if we can't keep improving on our performances."
England team: Kay Wilson (Bristol), Katherine Merchant (Worcester), Emily Scarratt (Lichfield), Rachael Burford (Richmond), Michaela Staniford (Wasps); Katy McLean (Darlington Mowden Park Sharks - capt), Natasha Hunt (Lichfield); Claire Purdy (Wasps), Victoria Fleetwood (Lichfield), Sophie Hemming (Bristol), Rowena Burnfield (Richmond), Harriet Millar-Mills (Lichfield), Hannah Gallagher (Saracens), Marlie Packer (Bristol), Sarah Hunter (Lichfield).
Replacements: Amy Turner (Richmond), Laura Keates (Worcester), Emily Braund (Lichfield), Isabelle Noel-Smith (Bristol), Georgina Rozario (Lichfield), Ceri Large (Worcester), Georgina Roberts (Darlington Mowden Park Sharks).
England's 2012 RBS Six Nations fixtures:
5 Feb: Scotland v England (Lasswade RFC, Edinburgh) 1700
12 Feb: Italy v England (Parabagio, near Milan) 1500
25 Feb: England v Wales (Twickenham Stadium) 1815
11 Mar: France v England (Stade Charlety, Paris) 1345
17 Mar: England v Ireland (Esher RFC) 1400