Six Nations: Family fortune for Faletau favours Wales
By Peter Shuttleworth
BBC Sport Wales
Last updated on .From the section Rugby Union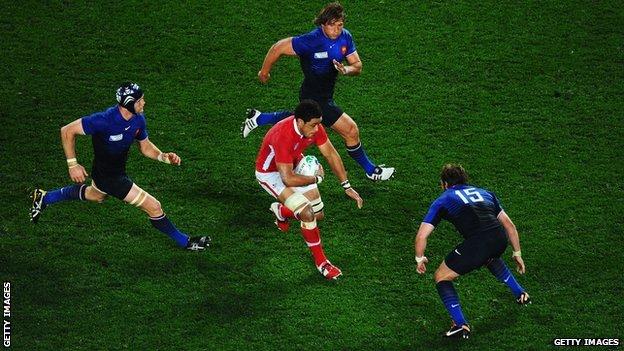 Toby Faletau's incredible journey to his Six Nations debut is largely thanks to Jonah Lomu, the late King of Tonga and a second-row injury crisis at Ebbw Vale 15 years ago.
The rising star of Welsh rugby prepares for his Championship bow against Ireland on Sunday already established as one of the best number eights in world rugby after his stunning displays at the 2011 World Cup.
Yet Faletau, already a strong contender for the British and Irish Lions' , is only able to roar for the Welsh Dragons because of twists of fate that are as remarkable as they are fortunate for coach Warren Gatland.
The 21-year-old was born on the slopes of a Tongan volcano - which might explain his explosive play on a rugby field - on the tiny island of Tofoa in the Haʻapai group of islands that help make up Tonga.
But the intervention of some of Tonga's biggest A-listers has been to the enormous benefit of Welsh rugby.
Lomu, his one-time agent Phil Kingsley Jones, the old Welsh Ebbw Vale player and King Taufaʻahau Tupou IV, who ruled Tonga for 40 years until 2006, all had a hand in Faletau's father Kuli, a former Tongan international lock, moving to play in Wales in the late 1990s.
Jones was with his famous client, the former New Zealand wing of Tongan descent, at a breakfast reception at the Royal Palace in Tonga's capital Nukuʻalofa in 1997, two years after Lomu rampaged through the 1995 World Cup.
"The King of Tonga had presented Jonah, who was a legend at this time, with some land to honour him," recalled Jones as he takes up the story.
"And the King said to Jonah their rugby team was in a bit of trouble as they had no finances and no coach.
"Jonah turned to him and said: 'Phil will help you' - so I was left stranded with the baby!
"I took the Tonga team, that included Toby's dad Kuli, on tour. It was the first time that most of these lads had left the island.
"We went to South Africa and played in their pre-British and Irish Lions warm-up games. We then played Wales in Swansea.
"Kingsley, my son, was flanker for Wales and Ebbw Vale captain at the time. He called to say they needed a lock so I sent Kuli, a great player himself, to Ebbw Vale.
"You couldn't have couldn't have got two places more completely different than Ebbw Vale and Tonga.
"Tonga has white sandy beaches, a deep blue sea, palm trees and a great climate - let's just say Ebbw Vale hasn't.
"It would have been difficult to settle as it is such a different place.
"He was home-sick initially but after wife Vika and the three boys arrived and the Welsh valley people made them feel at home.
"They lived in a house at the edge of Ebbw Vale's ground, Eugene Cross Park, and it became a chapel for the six Tongans playing in the UK as Kuli is a lay preacher."
Faletau, the youngest of three boys, was seven at the time and has made Wales home since. The 6ft 2ins powerhouse still lives with his parents at the family home in Pontypool while Kuli is a security guard at a local school.
"I've never thought about it before, but it is an amazing story how Toby qualifies for Wales," Jones reflects.
"At the World Cup, I got together with some of the Welsh players and Kuli said without Phil Kingsley Jones, Toby wouldn't be able to play for Wales.
"Toby is a chip off the old block as he is also a man of a few words, but does his talking on the rugby field."
Faletau has won 11 caps since his in June 2011 and was catapulted onto the world stage with swashbuckling performances, including a try against , as Wales finished fourth at the World Cup.
He made the most tackles and most ball carries in New Zealand and is fast becoming an iconic figure in Welsh rugby as he prepares to start his first Six Nations game as one of the most talked-about players in European rugby.
Legendary Wales number eight Scott Quinnell believes Faletau is the "real deal" and his old regional coach Paul Turner describes his former pupil as "a gem."
Faletau has become a talisman in a struggling Newport Gwent Dragons team, despite only graduating from their academy two years ago - and is preparing to go head-to-head with experienced Ireland counterpart Jamie Heaslip on Sunday.
But Dragons coach Darren Edwards admits despite the rugby interventions that ensured Faletau could qualify for Wales, the adopted land of his father almost missed him.
"He was playing at Filton College in Bristol and doing a scholarship," said Edwards. "I found it interesting that despite being Welsh-qualified, no-one had really got hold of him.
"I found him when I was working for Harlequins so when I joined the Dragons that was something I played a close attention to.
"He is already a complete player - and he's only just turned 21.
"The most endearing thing about Toby is that while he is proud of his Tongan descent, he has a great Welsh accent."