England 'world champions at wasting talent', says Graham Henry
Last updated on .From the section Rugby Union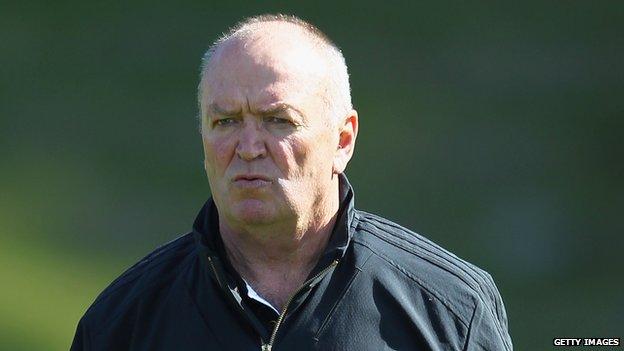 World Cup-winning coach Graham Henry has criticised England for being "the world champions at wasting talent" and playing "a game based on fear".
He told the rugbysite.com: "It seems that England are world champions at wasting talent.
"At national level and club level, English teams are far too worried about securing possession."
He added: "England has top-draw attacking players but they are seldom used.
"No wonder England had trouble scoring tries against the better teams at the World Cup."
He singled out Ben Foden, Chris Ashton and Delon Armitage as players who have impressed him but may never reach their potential.
Henry added: "A country with over a million players should be the best team in the world and England's potential in the backs is as good as it has ever been.
"But how frustrated those players must get in a white shirt.
"England and the English clubs play a game based on fear and a generation of promising backs are dying on their feet. That has to change."
Praising England's potential, Henry added: "Ben Youngs can also break teams up. Charlie Hodgson is a good navigator and made his mark when he came to New Zealand with the Lions in 2005.
"Manu Tuilagi is green but when he comes back from injury, he will prove himself to be a very good footballer. He has that explosiveness."
Henry believes that they need to alter their approach for the Six Nations, explaining: "England has a backline, but they will never fulfil their potential unless the team can win quick ball. This needs a total change of policy for the Six Nations.
"England must go to Murrayfield and stick it to the opposition. They have to smash the Scottish forwards past the ball instead of conservatively stopping at the tackled player in order to secure possession."
Henry contrasted England's approach with New Zealand's mentality, saying: "We want quick ball in New Zealand and so we concentrate on dominating the space beyond the ball carrier.
"We want our supporting players to get under the opposition and to move them backwards. We flood past the ball to create good possession for our strike runners.
"The English teams are paranoid that an opponent might steal the ball and so everyone jams on the brakes and seals off possession. It is fearful and often illegal."