Chris Robshaw can help England deliver new game plan

By Jeremy Guscott
Ex-England and Lions star
Last updated on .From the section Rugby Union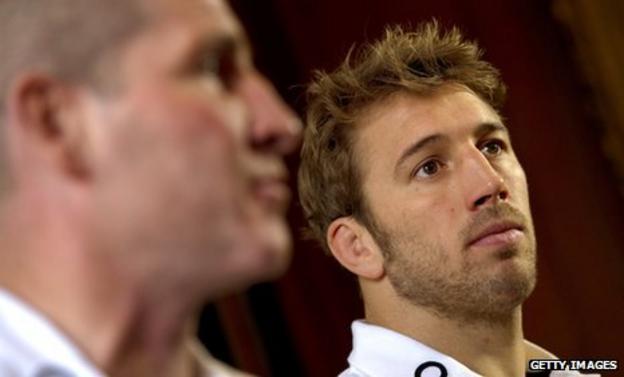 England have to play in a way interim boss Stuart Lancaster feels comfortable with and he needs someone to get his message across to the rest of the team.
Robshaw is skipper of a Harlequins side that are top of the Premiership, have a good work ethic and are playing with skill and ambition.
Lancaster believes some of the philosophy of that side - mostly the ambition - can be transferred to England.
Robshaw is a big part of driving that ethos at Quins and Lancaster hopes the flanker can do the same for the national team.
Robshaw may have only one cap but there's nothing to say that he doesn't deserve the captaincy.
He's captain of a side that are not only top of the league but came desperately close to qualification in the Heineken Cup - I don't think anyone can argue hard against the decision.
The fact he only has one cap is, to my mind, irrelevant, but it will be picked up on if England were to capitulate at Murrayfield.
That would be harsh, but what these guys have got to understand is that you eradicate any negativity by good performance. If you don't put in a good performance, be prepared for some flak.
The big thing about Robshaw is that he's got an engine that takes him through 80 minutes quite comfortably.
That should be the benchmark for England going forward, not just having players who can play for 60 minutes before they bring on the replacements.
You obviously need to have good replacements, but you want to pick 22 guys in the squad that can play 100% for 80 minutes - Robshaw can be one of those players.
On too many occasions under Martin Johnson there were games when the side lacked leaders, and you could see it because, when the team came under the cosh, no one stood head or shoulders above anyone else. They all went down together.
Not one player looked as if they could rise above the mediocrity of performance from the team as a whole.
I think Lancaster's done a pretty good thing in creating a leadership group that gives them all responsibility, which means they're all accountable.
Robshaw's the captain but Lancaster has mentioned the likes of Tom Croft, Dylan Hartley, Ben Foden. These guys are going to be helping Robshaw in setting the tone of the squad.
They've been given the opportunity. I hope they grab it.