Non Evans column: An exciting Six Nations in prospect

By Non Evans
Former Wales Women's international
Last updated on .From the section Rugby Union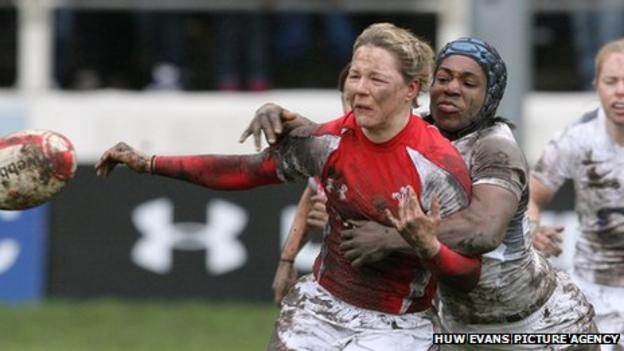 In the first of her columns for BBC Sport Wales, retired Wales international Non Evans previews the forthcoming Women's Six Nations Championship as Wales look to build on two wins and fourth place in 2011.
This promises to be an exciting Six Nations Championship - not least as it marks the 25th anniversary of Wales' first ever game, plus two of the Wales games will be played at Twickenham and the Millennium Stadium.
In 1987, Wales played their first international against England at Pontypool Park. Wales lost 22-4, but it is remarkable how far the women's game has developed in that time.
And now we can look forward to two of our games being played at two of the great rugby stadia in the world. The England v Wales fixture at Twickenham on 25 February is a match you can see live on the BBC red button. It will be only the second women's international to be screened live on the BBC.
I'm particularly looking forward to that as I have been asked to co-commentate on it.
The Wales v Italy game on 10 March is set for the Millennium and will be played after the men's game and hopefully a lot of the crowd will stay behind and support the women.
It's great that the women are now getting a chance to play on the biggest stages and I'm just disappointed that I didn't have that chance before I hung up the boots after the last World Cup two years ago.
I was not the only player to retire after the World Cup, which means last year and this are transitional seasons ahead of qualification for the World Cup in 2013.
There are a lot of new faces in the squad. There are seven players who have come through from the Under-20s.
Hopefully, the youth can blend with the experience of players such as Jamie Kift, who is on 83 caps just four away from my record, and new captain Rachel Taylor.
I would hope Wales can win three of their six games, which would be an improvement on 2011 and just the sort of improvement they should be looking for.
Like the men, I believe Wales will win all three of their home games against Scotland, Italy and France.
England will be tough at Twickenham and I hope the home side do not get their tails up because the floodgates could open.
For Wales, much depends on talented fly-half Naomi Thomas and the Welsh back-row. If Naomi can stay fit and release a backline full of pace then Wales can look forward to a good Six Nations campaign.
* Non Evans was talking to BBC Wales Sport's Richard Thomas