Six Nations: Scottish Rugby suffers Calcutta Cup T-shirt gaffe
Last updated on .From the section Rugby Union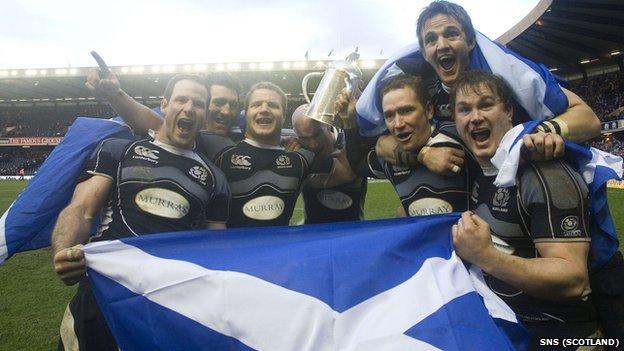 The Scottish Rugby Union have been left embarassed after T-shirts boasting of a Calcutta Cup win appeared on sale five days before this Saturday's match.
The mistake by the SRU's online retail partner led to T-shirts from Scotland's win in 2008 being re-released.
The shirts bore the logo: "Calcutta Cup. Scotland. Winners."
The blunder comes days after Scotland head coach Andy Robinson stood by comments he made after the World Cup accusing England of 'arrogance'.
A spokesman for the retailer said: "This was nothing more than an administrative error with some old stock ending up on the website by mistake.
"These T-shirts were hugely popular back in 2008 when Scotland last took Calcutta Cup honours and hopefully this will be a good omen for Saturday and they'll end up in demand once more."
The error has since been corrected.
Former England head coach Robinson, who took over as Scotland coach in June 2009, is looking for his first win over the defending Six Nations champions, who are aiming for a first win in Edinburgh since 2004.
Robinson's first Calcutta Cup game in charge was drawn 15-15 at Murrayfield in 2010, before last season's narrow 22-16 England victory at Twickenham.