2012 Six Nations: BBC pundits' predictions
Last updated on .From the section Rugby Union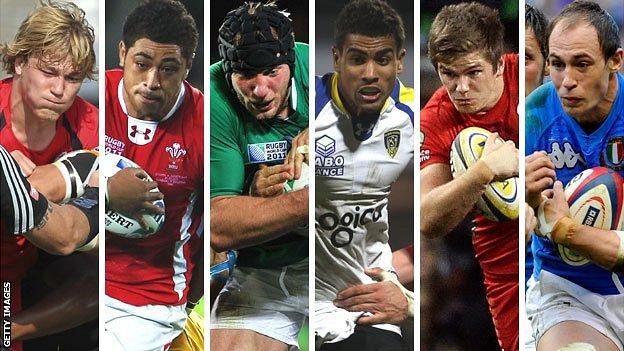 The RBS Six Nations Championship - the showpiece international tournament in European rugby - resumes this weekend. France and Italy open proceedings in Paris on Saturday (1430 GMT), before Scotland tackle England at Murrayfield (1700). Ireland and Wales then open their campaigns in Dublin (1500) on Sunday.
We asked four of the BBC's expert team of analysts - former England centre Jeremy Guscott (JG), former Scotland scrum-half Andy Nicol (AN), former Wales fly-half Jonathan Davies (JD) and former Ireland hooker Keith Wood (KW) - for their predictions.
Who will win the Six Nations, and why? Will it be a Grand Slam?
JG: My tip for the Six Nations is Ireland. I don't think they will win a Grand Slam, although it could be possible. The Irish provincial teams are playing so well at the moment and I believe they will carry that form into the tournament.
AN: France because they have, by some distance, the most quality to pick from. They have the strongest squad but this caused the previous coach some headaches and resulted in some weird selections. New boss Philippe Saint-Andre will not make the same mistakes and will select a strong and sensible side for every game.
Any side that can get to a World Cup final and nearly win it when playing so poorly is going to be a major contender in the Six Nations. Also, the fixtures work well for them - they have England and Ireland in Paris. Tough trips to Cardiff and Edinburgh mean that they will win the Six Nations but not with a Grand Slam.
JD: I have a funny feeling it will be France. They have strength in depth, they have a new coach, they didn't play well at the World Cup despite reaching the final, they played well within themselves. I think there is a lot more to come from them, especially with Philippe Saint-Andre taking over. If he can get any kind of team spirit going, they will get better.
They have Ireland and England at home, although they have to travel to Edinburgh and Cardiff, and they don't like going there. Overall I think they just have the edge but apart from Italy, who I don't think have the proper balance between forwards and backs yet, any of the rest could win it if they get a good start. Maybe there won't be a Grand Slam this year because it is so competitive, but it's going to be an interesting Six Nations.
KW: France, with their playing staff, should nearly always be favourites. But I don't think it will be a Grand Slam.
What are your expectations for your home country, and what would success look like?
JG: England will have internal expectations, to play well and get better each game, but externally I don't believe there are any expectations because it will be a very new team. Expectations will come into play after their first outing. Without seeing them play, fourth or fifth would be my prediction.
AN: I am quietly confident about Scotland, but I have been for the last few years with little success. Andy Robinson has a very settled squad to pick from this year and the Scottish based players are buzzing after Edinburgh making the Heineken quarter-finals and Glasgow going well in the Pro 12. Success is Scotland winning three games and I think they will achieve that but they will need to score tries, something they have not been great at for a few years.
JD: Expectations are very high after the World Cup but I think they were brought down to earth a bit with the Australia game (a 24-18 defeat) in December. If Wales can get their set-piece right, they have got a good chance but that is crucial. That is what gives them the platform to go forward and bring their ball-carriers into the game.
There is a lot of composure with Sam Warburton and Rhys Priestland, but they have to manage expectations and only focus on the first game. If they can win in Dublin, they have three home games ahead of them, and the title could be on the line in the last game against France, even if going to Twickenham is tough.
KW: I expect Ireland to be in the shake-up at the end, when they go to Twickenham on the final day. Even though they play France in Paris as well, with three home games, I would anticipate them finishing in the top two.
What are your general expectations about the type of rugby we can expect to see?
JG: The Six Nations is unique and the envy of global rugby in terms of audience, supporters, commercialism. It's not always a rugby spectacle in terms of skill but in terms of emotion, passion, highs and lows it can't be beaten.
AN: I am hopeful of good rugby in the Six Nations but sometimes the desire to win matches prevent them from being high quality. In saying that, every game in the Six Nations is usually hugely exciting and I would expect more of the same this year because there is not much between all of the teams. Most matches will be tight and my hope is that these tight matches are decided by a moment of magic rather than a mistake or a dubious decision by a referee.
JD: I am hoping for a more attacking Six Nations this year. I think England will try to be a bit more expansive under Stuart Lancaster, Ireland's players are going into it with good form from their provinces, with Leinster in particularly playing attractive rugby. I think Scotland just need to win, and get into the habit of winning. Hopefully they will be a bit more attacking rather than just going through the phases and taking points with a drop-goal.
I think France will be a lot better than the World Cup and play more attacking rugby, which Wales are already with the vision of players like Rhys Priestland. Italy have got to play more like Treviso than the way the national team traditionally plays. You just can't be so forward-orientated and expect to win games these days. The key thing for all countries will be generating quick ball. If sides can do that, then we will see more attacking rugby.
KW: I'd expect a bit more open style of rugby with three new coaches [England, France and Italy] trying to impose their influence on their respective countries. Plus it's the start of a new four-year cycle leading to the next World Cup, so hopefully teams will be more willing to try things.
Who is your tip for player of the tournament?
JG: The Six Nations has a number of stars - Sam Warburton, Thierry Dusautoir, Richie Gray, Sergio Parisse, Chris Ashton and Jonny Sexton will all shine.
AN: I think some of the usual suspects will be prominent this year. I would expect to see big performances from the likes of Paul O'Connell, Mike Phillips, Thierry Dusautoir, Sergio Parisse, Ben Youngs and Ross Ford, but I get the feeling someone like Stephen Ferris from Ireland might stand out. He has been brilliant for Ulster and his power and physicality could make him stand out from the rest.
JD: It is different this year with no Brian O'Driscoll and no Shane Williams. If he brings his Leinster form into the Six Nations, it could be Ireland fly-half Jonny Sexton. Flanker Stephen Ferris is another possibility given his form for Ulster, while Wales number eight Toby Faletau is an unbelievable talent.
KW: Wales captain Sam Warburton.
Which new face do you expect to emerge and make their mark?
JG: One to look out for is centre Wesley Fofana, who will make his France debut on the first weekend against Italy.
AN: David Denton is winning his first cap for Scotland and is a big, physical back- rower who looks made for international rugby. I hope we see the young Glasgow stand-off Duncan Weir get a run out for Scotland at some stage because I have a feeling he could cope at this stage in his career, and I also expect Owen Farrell to make a name for himself. Genes, obviously, play a part in this but he looks like he will easily be able to operate in the rarified atmosphere of Six Nations rugby.
JD: Centre Wesley Fofana is playing well and seems to be the only new face coming into the French team. I think England will also put a lot of onus on Owen Farrell. I think he is going to be playing in a "second five-eighth" role as the New Zealanders call it, basically playing as a second stand-off.
KW: Ireland flanker Peter O'Mahony was only a late call-up into the senior squad and is on the bench for the opening game with Wales. He has his work cut out with the strength Ireland have in the back row, but he's impressed for Munster.
Jeremy Guscott, Andy Nicol, Jonathan Davies and Keith Wood will all be providing expert analysis on BBC coverage of the Six Nations this weekend. Coverage from 1330-1900 on Saturday, and 1430-1700 on Sunday.