Plymouth Albion will restructure its board
Last updated on .From the section Rugby Union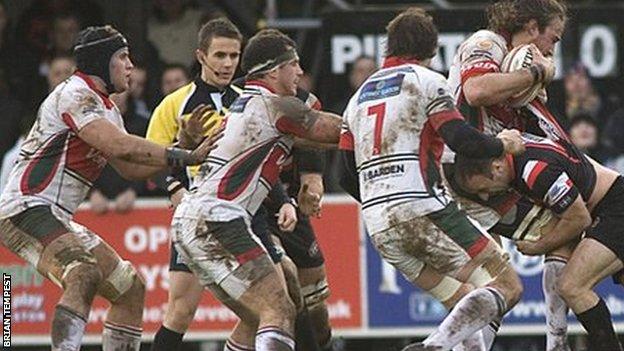 Plymouth Albion chairman Graham Stirling says the club's board will be re-structured in a bid to survive.
Albion hope to find £250,000 in order to keep the club competitive next season after a 20% drop in crowds led to financial problems.
"There will be change. The board of the club will be restructured and the management structure is being examined," Stirling said.
Albion have raised £171,443 of its target after an appeal to fans.
"We can't continue to run the club as we have been running it. It needs a major overhaul and it will get a major overhaul - it's started already," added Stirling.
"We need to look at a structure that can take this enterprise forward in a professional way, clearly maintaining tight financial controls," he added.
Albion are second from bottom in the Championship and will play-off for the right to stay in English rugby's second tier next month.
The club's financial problems first came to light when Pete Drewett was forced to leave as director of rugby after a sponsor pulled out of supporting his wages.
after Graham Dawe was sacked as chairman of rugby after more than a decade with the club.
The club say they do have enough money to play until the end of this season, but raising all of the £250,000 will help the side be more competitive in the Championship next season, should they stay up.
Albion have had a number of financial crises in the past few years, in 2009 players were forced to take a pay cut and a year later the club appealed to fans for help with funding.