Six Nations: Andrew Trimble out to seize Ireland chance against Wales
Last updated on .From the section Rugby Union
Ireland winger Andrew Trimble hopes to seize his chance to hold down a regular starting place when he faces Wales in Dublin on Sunday.
Trimble featured in five of Ireland's World Cup games, but started only one, despite his good form with Ulster.
"In the last six months I feel like I've been playing well, banging on the door and trying to get starts," he said.
"If I don't take my opportunity, I'll only have myself to blame."
With Keith Earls chosen to deputise for injured skipper Brian O'Driscoll at outside centre, a vacancy has opened up for Trimble on the left wing.
"I want to go out and perform as well as I've been playing for Ulster.
"I definitely want to kick on and I want to be a regular starter," added the 27-year-old.
Meanwhile Trimble insists the art of captaincy remains crucial as Ireland prepare for their longest spell under the leadership of Paul O'Connell.
O'Connell has been installed as skipper for the tournament in place of O'Driscoll, who misses the entire championship after undergoing shoulder surgery.
Ireland have been led by O'Connell on five occasions and the Munster lock is the automatic selection for the role when O'Driscoll is absent.
"Captaincy is still massively important. At Ulster we have Johann Muller and Rory Best. They make the decisions and do the talking," said Trimble.
"They're clear and concise, telling us what we need to do, and that's good leadership.
"Other leaders, such as Ruan Pienaar, do the right thing at the right time. He doesn't talk things up, just tends to make the right decision.
"There are different types of leader out there and O'Connell is someone I have a massive amount of respect for. When he speaks, everyone else listens. That's the way it is with Paul."
Trimble insists Ireland lose nothing with former Lions skipper O'Connell at the helm.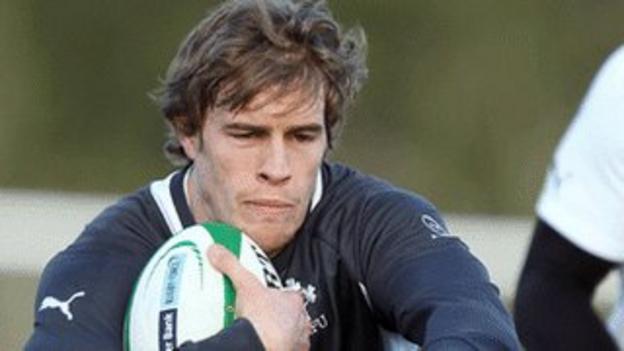 "Paul is great in the dressing room. I look up to him massively and have an enormous amount of respect for him as a leader and a player.
"To a certain extent he goes into a zone, but at the same time he communicates well. He leads well and brings everyone with him.
"Brian is a massive loss, in terms of what he has to say, but more importantly the impact he has on the pitch.
"But everyone's fully confident of what Paul brings. There's no better man to replace Brian as a captain."
The stakes are high on Sunday, for Trimble and Ireland, with victory over an injury-depleted Wales potentially setting the tone for their campaign.
Talk of avenging last autumn's 22-10 World Cup quarter-final defeat by the Welsh has been avoided in public, but Trimble hints that behind the scenes it is felt a score needs to be settled.
"I don't want to read too much into what happened against Wales in the World Cup and Six Nations last year, but there is definitely something more special about this fixture," he said.