Rejuvenated Nottingham chase Premiership dream
By Owen Phillips
BBC Sport
Last updated on .From the section Rugby Union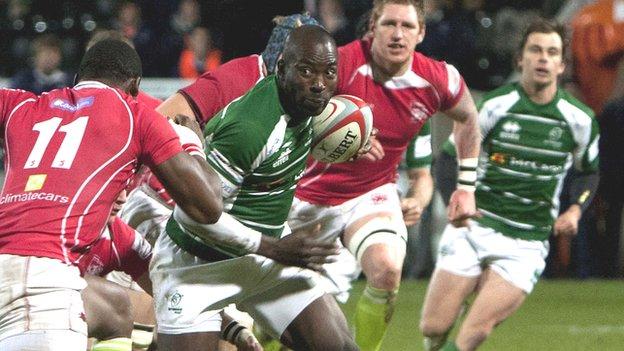 Nottingham Rugby chief executive Simon Beatham is enjoying their rejuvenation more than anyone.
Fifteen years of fulfilling various roles at a club means he has every right to.
Just over two years ago the Green & Whites - a club already no stranger to turbulent times - were riddled with financial problems and on the verge of folding.
Beatham, a former player, director of rugby and then board member, had just about given up hope of Nottingham surviving.
And bizarrely it was only the near demise of their tenants Notts County Football Club that spared them.
"We had a board meeting and had just about agreed that the rugby club wasn't viable anymore," Beatham told BBC Sport.
"That week everything at Notts County with Munto Finance fell apart, and if that had kept going for another few weeks then Nottingham Rugby could well not be here.
"It got to that difficult a stage where we were getting crippled in everything we were trying to do. We were really, really struggling."
Thankfully new owners salvaged the wreckage at Meadow Lane - both for the Magpies, and for Nottingham - and since then a board reshuffle at the rugby club has seen significant investment in the playing side and brought much-needed stability off the pitch.
Beatham, 38, added: "The way that the new owners have taken us under their wing is fantastic and that was the start of it. Before then we were struggling.
"We had the agreement here [with Notts County] and they would let us use the facilities but we were very much a tenant and worked on it that way.
"When Ray Trew, Luke Jones, Jason Brewer and Jim Rodwell as a group bought the club that shifted fundamentally, and the whole position within the organisation and their desire to help us be successful just increased dramatically.
"For many years we have been scraping along the bottom and been in survival mode.
"Since Christmas 2010, for the first time in a long time, we have had some stability and have actually been able to plan rather than just being in re-active, firefighting mode."
Beatham was appointed chief executive - a role that had previously been vacant because of the costs involved - and a steady stream of new players have been signed.
"That has been hugely beneficial both on the field and off it. Those improvements people can see on the field straight away because we sign a Filipo Levi or a Sean Romans.
"But it's also off the pitch and we are looking at how we can build the business of Nottingham Rugby so that it [Premiership rugby] is here and sustainable."
And now, despite a mixed season on the pitch, the Green & Whites have a realistic chance of reaching the Premiership via the Championship play-offs.
"We have as good a chance as anybody in that competition," Beatham said.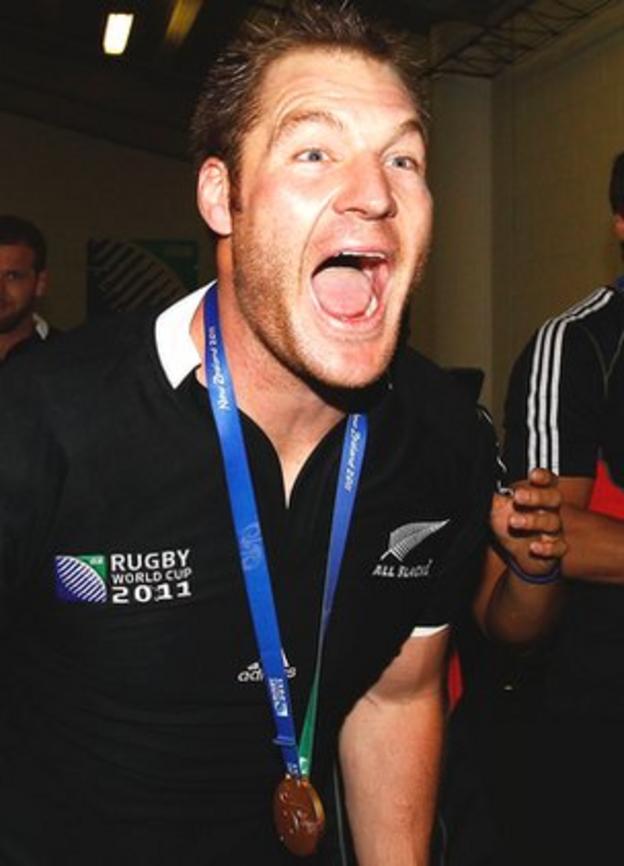 "There isn't a stand-out team like a Harlequins, Northampton or a Worcester that will get promoted again. Leeds are in the middle of the pack and Bristol have been in the Championship for a couple of seasons so this season, more than any, it is up for grabs."
To be talking about reaching the top-flight and all the financial reward and exposure that brings is a welcome relief - but something Beatham insists the club have never lost sight of.
"The ambition, as it always has been, is it to get into the Premiership," he added.
"With the new backers, that dream is that much closer. It's still an incredibly difficult thing to achieve but we have always believed that a city and a region the size of Nottingham could support a Premiership rugby side and our job is to make that happen."
That means long-term planning.
And events like the Family Big Day Out - which was scheduled for Sunday's home game against Leeds and would have seen ticket prices cut to £5 for adults and £1 for children before the cold weather intervened - are seen as the ideal way of ensuring the next generation of rugby fans.
But increasing crowds at Meadow Lane to a level that will sustain Premiership rugby is no easy feat - especially given the area's huge football heritage.
Average attendance in the Championship is just below 2,000 but Nottingham's aim is to bring in around 2,500. And they will have to move on to the next level if they reach the top flight.
"If you go into the Premiership, for a city the size of Nottingham, we would be looking to get an average crowd of 5,000-7000," Beatham added.
"And when we play side like Leicester or Northampton we would expect to get a spike on that.
"But we have to convert people and let them know because the reality is, if we did a survey in Nottingham many people would not know who we are, what level we play at or where we played.
"We have a long way to go but being in the Premiership changes all that.
"We think it's a really well kept secret and we want people to come and experience the rugby and introduce it to new people. It's about showing the product we have and trying to get people here with the hope they like it and come back.
"We think we have a value offering and want people to be aware of it. It's not a short-term gimmick, it's part of a longer-term growth strategy."
Raising the club's profile will be a lot easier given the Ali Willams factor.
The All Blacks World Cup winner made a huge impact in his short stint at Meadow Lane as a player and is now in an advisory role.
"The stature of him as a player is just phenomenal. We have to look how we can maximise his involvement and get the most out of it for us, and for him," Beatham added.
Success on the pitch would also complete a remarkable adventure for Beatham.
"I came 15 years ago as a player, got injured early and went straight into coaching, so was director of rugby for eight years and then a board director," he explained.
"So having been in the depths of the third division, not knowing where we were going to get a team from and playing in Lydney on Christmas Eve with 10 people watching, to having a genuine chance of going into the Premiership is a fantastic journey."