Wales lock Bradley Davies banned for rest of Six Nations
Last updated on .From the section Rugby Union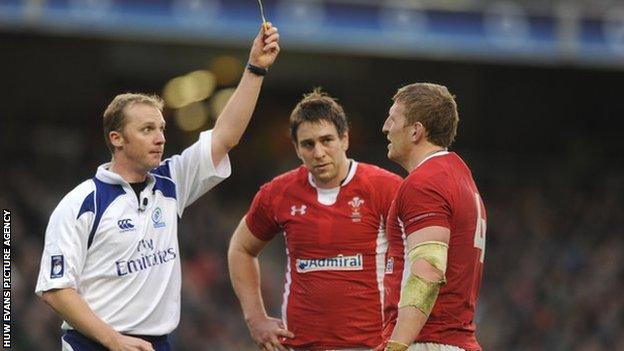 Wales lock Bradley Davies will miss the rest of the Six Nations after being banned for seven weeks for his tip tackle on Ireland's Donnacha Ryan.
The 25-year-old was suspended at a Six Nations disciplinary hearing in London on Wednesday after pleading guilty to foul play in Wales' win in Dublin.
Davies returns on 26 March so can play in Cardiff Blues' Heineken Cup quarter-final against Leinster on 7 April.
The second-row was cited after being sin-binned by referee Wayne Barnes.
An independent Six Nations disciplinary committee, chaired by England's Antony Davies, considered independent Six Nations citing commissioner Achille Reali's citing report and the television footage.
The committee found the incident, in "which the player lifted his opponent beyond a horizontal position but did not bring him to the ground safely contrary to Law 10.4(j) and the IRB's particular emphasis on this aspect of the game", merited a "top end entry to the IRB's table of sanctions."
A Six Nations statement added: "The Committee applied an additional two weeks to the entry point of 10 weeks to reflect the need for a deterrent for this type of foul play.
"But, in mitigation, took account of various factors in the player's favour including his admission of guilt, his previous good disciplinary record and his conduct at the hearing."
Wales coach Warren Gatland had prepared for the worst as he believed Davies, who has the right of appeal against the length of his suspension, should have received a red card in the first instance.
"I think there's intent and if you look at that," Gatland had said after the 23-21 victory in Ireland last Sunday.
"So I wouldn't argue with the decision of that being given a red card."
Gatland also told Davies, who was also yellow carded in Wales' 2011 Six Nations win in Scotland, that he needs to be more disciplined at Test level.
"It's not local club rugby, where you get away with those things," said Gatland.
"We've got the very best referees in the world. You've got to keep your head.
"You can't get caught up in the moment and have ill discipline, because that does cost you.
"Our staff in the box who had a look at it thought it should have been a red card. It should have been a red card."
The Welsh Rugby Union fully expected Davies to receive a ban but insisted he is not a dirty player.
"Everyone who knows Bradley knows he is not a player who plays this sort of game," WRU group chief executive Roger Lewis told BBC Radio Wales.
"Bradley is a fine young man who needs to be supported.
"He transgressed the law. He is not a player who has got a record of this sort of activity but we have to put our hands up - it was inappropriate action."