Nat Saumi appointed Plymouth Albion head coach
Last updated on .From the section Rugby Union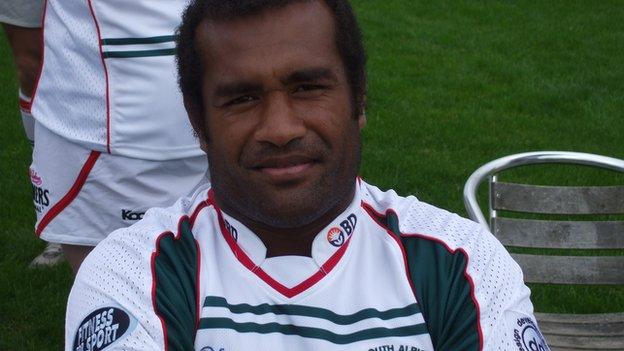 Nat Saumi has signed a deal to stay as Plymouth Albion head coach until the end of next season.
Saumi was offered a deal earlier this year but said he was unsure whether to take it for personal reasons.
"I am delighted to be staying at Albion and to work with the players and board to move the club forward for the play-offs and the 2012/13 season," he said.
Saumi, a former Fijian international, has been associated with Albion since first joining as a player in 2003.
He first came to the UK in 1996 when he was signed by Redruth and moved to the Cornish Pirates two years later.
Saumi's appointment comes at a difficult time for Albion, off the field they have severe financial problems and had to appeal to fans and shareholders to donate money in order to keep the club afloat.
They are third-from-bottom of the Championship and will play in the relegation play-offs later this season.
Albion sacked chairman of rugby Graham Dawe in November and brought in former Exeter boss Drewett.
But after funding for Drewett's post was lost he was forced to leave the club and Saumi took over until the end of the season in a caretaker role.
Albion have and narrowly lost to Moseley and since the Fijian took over.
"The board is extremely pleased to announce that Nat has agreed to accept the permanent role of head coach and director of rugby for at least another season," said chairman Graham Stirling in a statement.
"Nat has a proven history with the club and his abilities are well known and respected in the rugby arena.
"We are convinced he is the right person to take the club forward. He has demonstrated that he has the coaching and man management skills the club needs in order to progress and he is highly thought of by the players and the rest of the coaching staff.
"The timing of the appointment is important to give the playing squad stability and confidence for the play-off stage of this season and, equally important, as we progress our plans for next season."