Six Nations: Wales coach Warren Gatland warns of tip tackle fines
Last updated on .From the section Rugby Union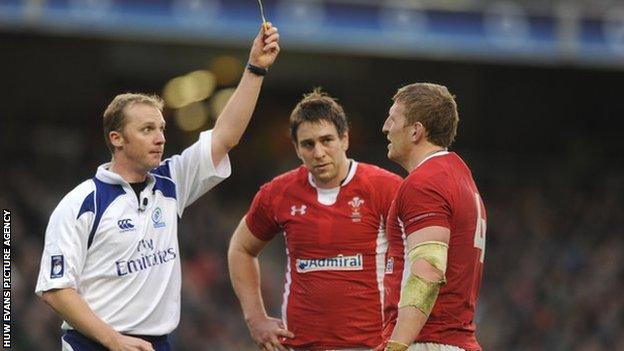 Wales head coach Warren Gatland has warned he may fine his players should they continue to tip tackle opponents.
Lock Bradley Davies has been banned for the rest of the Six Nations after being handed a seven week suspension for his tip tackle on Ireland's Donnacha Ryan.
Captain after being sent-off for a tip tackle on France's Vincent Clerc in their World Cup semi-final defeat.
"We need to improve our discipline," admitted forwards coach Robin McBryde.
"We have threatened that the yellow card itself is perhaps not enough of a deterrent.
"Perhaps we should put an added fine on top of it ourselves because it could cost us games which could ultimately cost us Championships.
"The implications of someone receiving a yellow card are very far-reaching and it is not something we're very happy about."
The International Rugby Board issued a directive to all unions and officials in 2009 emphasising the IRB's zero-tolerance stance towards dangerous or tip tackles.
Wales missed out on a first World Cup final appearance when Gatland's team went down to 14 men following Warburton's first-half dismissal against the French in Auckland.
Gatland felt "let down" by referee Alain Rolland's sending off of his skipper although .
The Wales coach celebrated their opening Six Nations win in Ireland on Sunday but was left frustrated by another lapse of discipline, this time by Cardiff Blues second row Davies.
"We said to the players afterwards to just stop hurting ourselves by giving away stupid penalties or stupid yellow cards," Gatland said after Wales' 23-21 Aviva Stadium triumph.
"You just can't keep doing it to yourselves. It's not local club rugby, where you get away with those things.
"We've got the very best referees in the world. You've got to keep your head.
"You can't get caught up in the moment and have ill discipline, because that does cost you."
Rugby coaches accept that teams can concede between seven to 10 points when reduced to 14 men and the Welsh management are determined to improve their discipline.
Now New Zealander Gatland, who inspired Wales to 2008 Grand Slam glory, is threatening an added in-house sanction if his Wales players continue to be penalised for tip tackling.
"With the tip tackle specifically it is something that all of our players are aware of," warned McBryde.
"And unfortunately we were guilty of one on the weekend and we've been penalised for it.
"It is something that Warren has raised in front of the squad as a question if we need a further deterrent because at the moment the implication of a yellow card can affect everyone."