Jim Telfer slams Andy Robinson over Dan Parks' retiral
Last updated on .From the section Rugby Union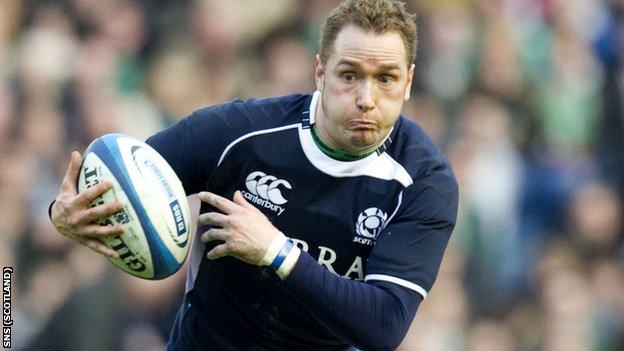 Former Scotland coach Jim Telfer has criticised Andy Robinson for his statement regarding the retiral of Dan Parks from international rugby.
Parks stepped down on Tuesday after Scotland's opening Six Nations defeat by England, and current coach Robinson said it was "the right decision".
"Robinson said it was the right time to go, and I think he's a bit culpable on that," Telfer told the BBC.
"He stood by him before, and he hasn't stood by him now."
The last of Parks' 67 appearances for Scotland saw the stand-off making a mistake that gave England a match-winning try at Murrayfield.
Telfer, who was head coach for the British and Irish Lions tour of New Zealand in 1983 and coached Scotland to the Grand Slam in 1984, said he had sympathy for Parks after the player was made a scapegoat by the press for a poor Scots performance.
"I was surprised in a way, but not in another way, because he's taken a bit of a pummeling with the press up here," said Telfer.
"He's an easy target and they blamed him for the loss.
"The score he gave away - which was 29 seconds into the second half - had some bearing on the result, but Scotland had two or three gilt-edged chances to score and win the game.
"Gavin Hastings missed a kick to put us into the final of the World Cup - he's still a legend, so some players get away with things that Dan Parks didn't get away with. Dan has been a controversial figure all the way through.
"He's never been a favourite in Scotland, because he's an Australian.
"Even though he's got 67 caps, they don't like what they call foreigners coming in and they just turned on him.
"I feel very sorry for him, because he's been a great servant to Scottish rugby."
Most of Telfer's criticism was aimed at Robinson, after Parks had fought to regain his place with award-winning performances in the 2010 Six Nations.
"Dan is not the reason Scotland haven't been scoring tries and winning matches," he added.
"When Andy Robinson picked him, he picked a certain type of player - so Andy bears some responsibility as well.
"I don't know the exact circumstances of him retiring, but he's a very nice bloke and a great influence on players.
"He's a good rugby strategy man, which is probably why Robinson had faith in him.
"When they picked him last Thursday, Robinson said 'he's my man' - three days later, he's not and he says he's quite right to go - and I find that not very nice at all."