Mouritz Botha impressed by England spirit
Last updated on .From the section Rugby Union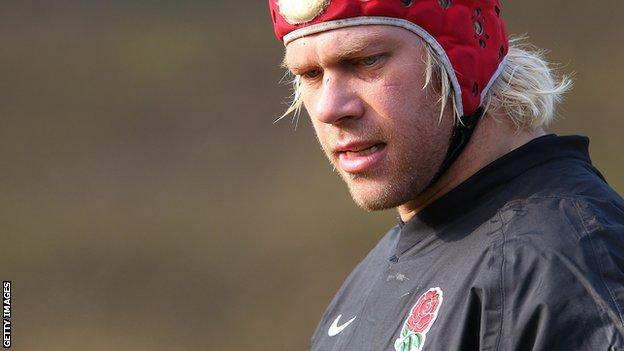 Lock Mouritz Botha believes England can go on to build "something special" after last weekend's breakthrough Six Nations victory over Scotland.
Interim coach Stuart Lancaster's side battled to a 13-6 victory in Edinburgh and face Italy in Rome on Saturday.
"The bond we have created is something that we showed on Saturday and it is building towards something special," said Saracens' Botha.
"Italy will be a big battle. They are not a Wooden Spoon team any more."
Botha, 30, revealed how England's first Murrayfield triumph in eight years was inspired by the unlikely figure of pop star Lana del Rey.
Lancaster used the American singer's hit Video Games to soundtrack a motivational highlights video and it was playing as the England squad walked into the Murrayfield changing room.
Botha said: "Stuart got it spot on with the build up of emotions. This song was playing in the dressing room as you walked in.
"It made the hairs stand up. It gave you the feeling you are ready for this."
England's challenge now is to recreate that emotion and build on last weekend's performance in the imposing Stadio Olimpico.
"At home in their new stadium they will be up for the challenge with 70,000 fans behind them," said Botha.
"It was a brilliant occasion on Saturday at Murrayfield and to be facing something like that again will be a brilliant challenge.
"Initially we were really happy with the result last weekend but when you do your review, in retrospect there are a lot of things to work on.
"Our work-rate, character and defence overall were positive but when we rated our attack and ball retention we had really low scores.
"Those things we have to improve on. In attack we can offer a lot more."