Six Nations: Shane Williams column
By Shane Williams
Wales' record try-scorer
Last updated on .From the section Rugby Union
In the first of his columns during the Six Nations, Shane Williams discusses Wales' chances against Scotland, wing wonder George North and his new role as a BBC pundit.
That means we can have both Ryan Jones and Dan Lydiate on the field. Both are completely different players in dimensions and we'll see how they play together on Sunday.
Dan's fit and he brings a massive defensive presence to the squad and I think Ryan, after a great game last week, wanted to make sure he was still involved this week in any position.
Rhys Gill will probably be a little bit disappointed because I thought he had a good game in Dublin. I thought he carried the ball well and obviously the scrum went very well.
But, in saying that, if you can get a player like Gethin Jenkins fit and on the field then he's always going to be in your first team.
Bradley will be the first to say he was silly to do what he did. It was off the ball, which didn't help, and it was a dangerous tackle. It's something you see in UFC [Ultimate Fighting Championship] and not usually in rugby games.
I'm sure he'll know he's made a mistake and won't be making the same mistake again. Seven weeks is a harsh penalty but it was dangerous play.
We're told before any game that any dangerous play or ill discipline will not be tolerated. You try to be a clean and disciplined side because you get punished for giving penalties away and getting cards. We should have learnt that from the World Cup.
I'm not too sure if fining players is going to make a difference because it shouldn't have to come to that. You know you should be disciplined and, if you're not, then you're letting the team down.
I thought George North's second-half performance against Ireland was incredible. I'm chuffed for the guy; he's worked really hard. He's a young boy and he's got a lot more to come which is frightening for the opposition.
He found it very difficult in the first half to get involved but as soon as he started working off the 12-13 channels you could see that confidence oozing out of him.
His work-rate around the field goes to show that he wants to score every time he gets his hand on the ball and he tries getting in the final pass. That's the sign of a quality finisher and it won't matter to him if he's scoring from five yards or 55 yards.
I felt sorry for Alex Cuthbert. It was a game where both him and George didn't get involved in much in the first half and he had a bit of a bang and didn't come out in the second half.
I hope that doesn't dishearten him too much and I'm glad he's been given his chance. I'm sure we'll see Alex trying to work off the 10 and 12 channel and getting involved in the game a bit earlier on. It's early days for him.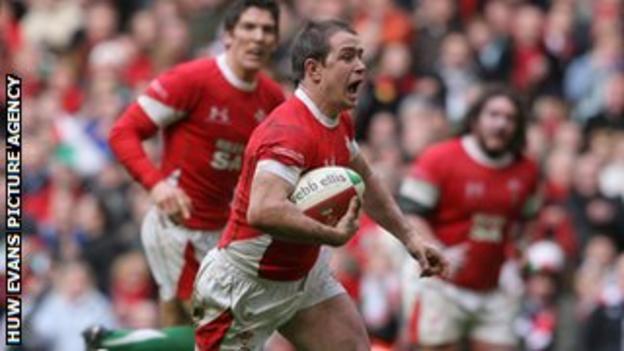 Wales have got one of the toughest games out of the way and they are capable of winning the Championship. But I hope they don't get carried away with the result last Sunday because the Scotland game is going to be tough.
Scotland are almost in a situation now where they've got nothing to lose. They've been criticised for being a negative side for not scoring tries. I'm sure, as we've seen in the past, Scotland are more than capable of coming to the Millennium Stadium and performing and scoring points.
I've enjoyed playing against Scotland in the past. When we play Scotland it's always an open game. Both sides are determined to get that ball around the park, which is encouraging as a back. It was a game that suited me.
It can be very forward-dominated at times and then it's back on back and it's your chance to do something with it. I enjoy those kind of games when you're given the free licence to run at backs rather than giant second rows all game. I hope the likes of George, Alex and Leigh [Halfpenny] at the back get the same opportunities at the weekend.
It's different for me now since retiring from international rugby. I used to say that I did all my talking on the field but now I'm the complete opposite in my role as a BBC pundit.
I was a bit wary on Sunday going to the game and knowing that I wouldn't be involved with the guys. Prior to the anthems and the warm-ups I found myself itching just to be out there.
But as soon as the game started I had to concentrate on my job of work and enjoying a fantastic game. I loved the experience and it was nice to get involved with the crowd and actually walk to the Aviva Stadium from the hotel, something I hadn't done before. I enjoyed the experience, even more so because Wales won.
Shane Williams will be part of the BBC's coverage of Sunday's game between Wales and Scotland, which begins at 1430 GMT on BBC One.
He will also be answering your questions early next week. More information on how to submit your questions to Shane will be found on bbc.co.uk/scrumv on Monday, 13 February.