Cardiff Blues hint at permanent Arms Park return
Last updated on .From the section Rugby Union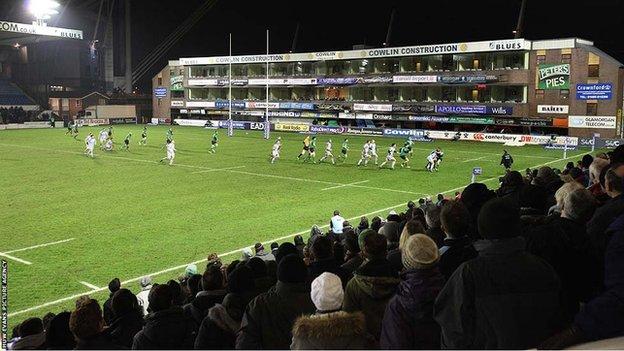 Cardiff Blues have delayed until Friday an announcement on whether all four remaining home games this season will be moved from Cardiff City Stadium to Cardiff Arms Park.
The Blues beat Connacht at the Arms Park on Friday and take on Ulster there seven days later.
But hosting a second Pro12 League game at the Arms Park has "disappointed" Bluebirds chief Alan Whiteley.
"Ultimately it's their business and their decision," added Whiteley.
"They're free to play the games wherever they want to.
"They have a long-term commitment with us and nothing changes from our perspective in relation to that so really it's their decision.
"Disappointed in one element, but can see and understand why they've done it."
The Blues' longer-term was expected on Monday, but the their board will now meet on Friday, ahead of the clash with Ulster, to discuss the issue.
The Blues beat Connacht in front of a capacity 8,000 crowd on Saturday.
They return to the city centre ground to host Ulster in the Pro12 League on Friday.
The Blues are tied to a 20-year contract to play a maximum of 18 games per season for a set fee rather than per match at Cardiff City Stadium, where attendances have dropped this season.
Speaking at the opening of Cardiff City's academy building at Treforest, Whitely added: "I can understand to a certain extent the groundswell of opinion of people who were against the move to the new stadium in the first place.
"We're disappointed at the football club that they've chosen to do that."
Cardiff Blues chief executive Richard Holland said: "We still have a 20-year lease in place at the Cardiff City Stadium and playing these two fixtures at the Arms Park has no impact on this agreement.
"However, some games are more suited than others to be played away from the Cardiff City Stadium and this is something we will be looking at going forward.
"We have arranged a Board meeting for Friday to discus the rest of the season and will be reviewing the situation for the 2012-13 season also."
The Blues abandoned the traditional Arms Park home of Cardiff rugby in 2009 when they signed a 20-year agreement to play their home games at Cardiff City Stadium.
Having initially attracted average crowds of between 10,000 and 11,000, attendances have dropped significantly this season, with an all-time low of 2,093 watching the LV= Cup match against Harlequins on 5 February.
When Holland took over as chief executive in January, he dismissed the idea of leaving the stadium, stressing his brief was to "make it work at Cardiff City Stadium, full stop".
But the region bowed to supporter pressure and Holland said Friday's game at the Arms Park was a great success, praising his staff for a "Herculean" effort needed to prepare the ground at short notice.
However, he conceded that the old ground needs refurbishing, a consideration that would add to the other financial implications of moving from Cardiff City Stadium.
"There's no doubt the facilities are second-class in comparison to the facilities at the Cardiff City Stadium," added Holland, who said that the option of moving some games to Pontypridd next season would also be explored.
"So I'll sit down with the board and the chairman and we'll look at investments if required if we are going to have a look at some games back here.
"But if that's not the case the investment won't be required."