All Black great Jonah Lomu needs new kidney transplant
Last updated on .From the section Rugby Union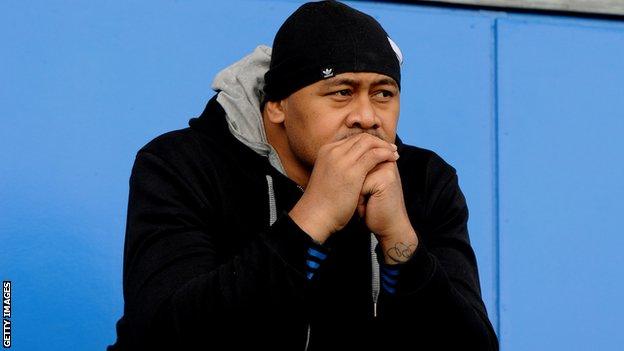 Former All Blacks winger Jonah Lomu has said he needs a new kidney transplant and has lost 30kg since September.
Lomu, who scored 37 tries in 63 Tests for New Zealand between 1994 and 2002, had a first organ transplant in 2004 but the kidney stopped functioning in October 2011.
The 36-year-old has recently been having dialysis for 21 hours each week.
"Nothing has made any difference - the next step is to try to find a donor," he told New Zealand Woman's Weekly.
"I know I was fortunate to get the first transplant but there are more difficulties this time around.
"The match will be harder and the process of finding a suitable donor is difficult. The chances of my body rejecting this kidney are higher too.
"I'm really lucky - I've already lived more in one lifetime than many would in six or seven lifetimes. The thing about being human is that everybody has to die sometime.
"For me, the important thing is to ask 'can you look in the mirror and say you done everything to enjoy life?"'
Lomu was diagnosed with the kidney disorder nephrotic syndrome in 1995.