Six Nations: Dan Parks backs Scotland to recover
Last updated on .From the section Rugby Union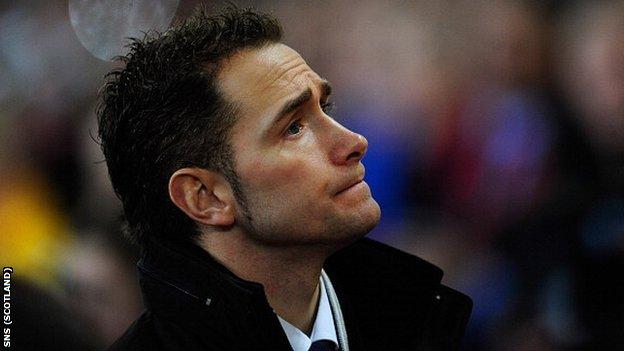 Dan Parks believes Scotland can still achieve their target of winning three matches in this year's Six Nations.
"We've had two losses but I still certainly believe the guys can get the three wins in the last three games," Parks told BBC Radio Scotland.
"We'll bounce back. I'm sure the guys will be up for it in the French game."
Having got to half-time level at 3-3, Scotland imploded at the start of the second half, shipping three tries and suffering two yellow cards.
Greig Laidlaw crossed for a rare Scottish try but it proved only to be consolation.
"There were some really good performances out there," said Parks. "We had that 15-minute period after half-time which obviously cost us very dearly. They [Wales] piled on 24 points in that time.
"It's difficult when that happens, to react to that but we did in the last 20 minutes, we came back. We got a try, we should've got two tries as it turned out but it wasn't to be.
"England scored a try last week just after half-time and Wales managed to score a try pretty soon after the break. That's just a concentration thing.
"In international rugby, it's really fine lines, the difference between winning and losing, and that's what it comes down to.
"We've obviously lost two games but there's been a lot of positive things. Certainly last week we created so many opportunities, we just couldn't complete and again yesterday we had that bad period after half-time but that's rugby, that can happen.
"I know what the guys have been looking to achieve and that's three wins from the last three games.
"We've got France, which is obviously going to be a difficult game in two weeks but I know that all the boys will be right up for that game and hoping to improve where they are at the moment."
Parks admitted it had been "strange" and "emotional" watching rather than taking part in the Test match but insists he has "absolutely no regrets" about retiring.
"It was something I had thought about for quite a while," he added. "After the World Cup it was on my mind but the attraction of playing England in front of a Murrayfield crowd was something that was too hard to say no to.
"Obviously, it would've been great to have won but it wasn't to be."