Six Nations: Jeremy Guscott Q&A

By Jeremy Guscott
Rugby Union Analyst, BBC Sport
Last updated on .From the section Rugby Union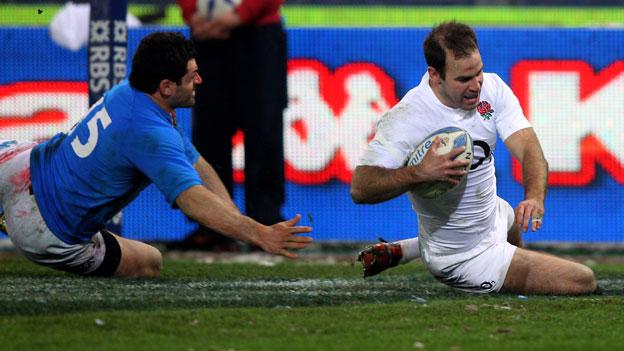 The former England and Lions centre answers your questions after the second round of the Six Nations.
Among the topics making the headlines this week:
- England's form so far in the Six Nations after a second away victory in successive weeks and why they need to change a winning side
- What Stuart Lancaster needs to do to make his position as England's interim manager permanent
- The strength of the Scotland pack
- The last-minute postponement of France's home game against Ireland
- Jerry's scarf
Jerry will answer as many of your questions as possible each week but not every question submitted can be used.
Nice scarf on Saturday, very daring! Realistically, where are England at the moment? We've seen the team grind out two wins in utterly appalling conditions that did not favour expansive, attacking rugby. Is it fair to say we won't really know how good this team could be until we see them playing in good conditions that allow them to chuck the ball around a bit and play an expansive game? Adam Johnson, England
Hi Adam, the scarf was a pashmina that I bought for my girlfriend but I liked the colours so on it went. It certainly got some comments, some good and some not repeatable. It will be back!
This is a new England team trying to gel under the extreme pressure that is international rugby and it's just about to get even harder because they have played Scotland and Italy, who are seen as easier opposition than the next three. It's not just about throwing the ball around. You have to have an understanding of breaking down a defence. If you watch Wales they have a structure to their attack that involves the ball carrier really attacking the defensive line, getting quick ball and then making good decisions on where to attack next. England haven't got that understanding yet. Except for the few forays of Ben Morgan we haven't really seen any of the forwards or the backs achieve that momentum.
How do you suggest that Toby Flood, Courtney Lawes and Manu Tuilagi are reintegrated into the current England squad? They are all quality players, but do you risk unsettling a side that is winning? Spencer, UK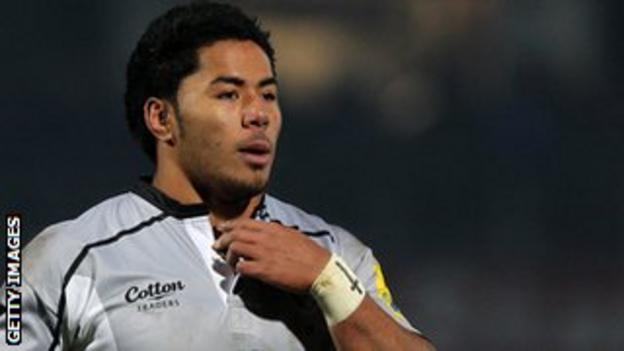 Hi Spencer, to my mind Tuilagi has to come back into the team. It's nothing to do with unsettling the team. Tuilagi is the best English centre and, if he's 100% fit, he has to play and the players would understand that. Lawes would make it too because of his energy. His defensive plays are dynamic and will encourage his team-mates to do the same. Flood is a difficult one because Charlie Hodgson hasn't done anything wrong other than he's not really got the backline firing. Owen Farrell is the dilemma for me. While his kicking is good and his defence has been adequate, we haven't seen him attack with any authority or penetration. I would either go with Flood at 10 with Brad Barritt and Tuilagi in the middle and leave Farrell on the bench or swap Farrell and Flood. It's harsh on Hodgson but he was only going to be a stop-gap. From what I've seen of Farrell so far he's happy to boss the players around him, which is good at 10. That gives a strong midfield defence and hard-running attack in the centre. It's not massively creative but we've not been bowled over with creativity so far.
England are lacking that attacking spark which can only be a confidence thing. Against Italy they had enough ball to make things happen but it didn't kick off until Morgan and Lee Dickson came on. When Hodgson tried to bring Barritt into play he did it with a basic drop-off (simple scissors) move too far behind the gain line which gave Barritt too much to do and the Italian defence coped easily.
Stuart Lancaster's England have won two out of two but hardly created anything. No matter what Andy Farrell says, you can't hide from the fact that our only tries have come from two chargedowns, a massive stroke of luck. How do you think England will fare against the Irish, French and Welsh? I can't help thinking we're just papering over the cracks at the moment. Edd, UK
Hi Edd, I don't believe England are papering over the cracks. It's just where the team is right now. They are not world beaters and most pundits had them finishing fourth, or third at best. Performances have been mediocre, big on work rate, defence and scrambling but short on creating try-scoring opportunities. I can't give any scientific reason why, but sides generally play well against better teams and that's what I expect England to do because, if they don't, they will get a real beating by Wales, France and Ireland. I would like to see England enter the game against Wales with the same attitude that Scotland did. They went to have a crack at a good side. The match was played at a good pace and Scotland created chances to score. England have to do the same.
At the beginning of the Six Nations you and other analysts agreed that three wins meant Lancaster kept the top job. However, with less-than convincing wins against Scotland and Italy do you think even if he does get that magical third that he keeps his job? Edward, England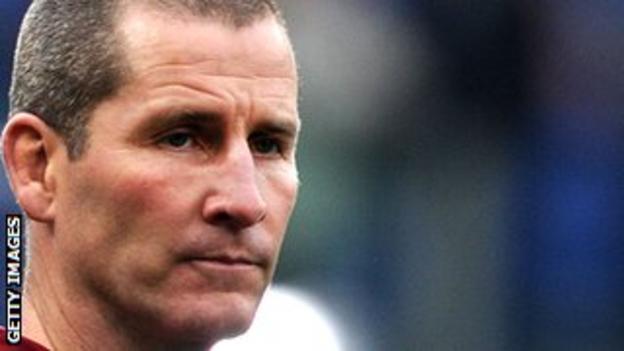 Hi Edward, I'm pretty sure I didn't say he would keep his job if he won three games. Even if his team won the Championship, he wouldn't be nailed on. I can't second guess the selection panel deciding who coaches England after Lancaster's interim period but Nick Mallett and Wayne Smith plus Jim Mallinder must be in the running. Lancaster has an opportunity to impress and show his credentials in how he can make England a force to be reckoned with come RWC 2015. He needs his team to show signs of improvement from the Martin Johnson era. That takes time, which Lancaster doesn't have the luxury of. However, two wins is a good start. If we don't see an improvement in England's attacking game by the end of the Six Nations then he definitely won't continue in the job. Lancaster comes across as an intelligent and likeable person who has a very distinct vision of personal values and leadership. That's a good starting point. We now need to see that translated into game performance.
What's your opinion on Greg Laidlaw? I thought he impressed with his performance against Wales. Also do you think the young Duncan Weir should be given a chance at outside-half for Scotland in this Six Nations, especially as he has been so impressive for Glasgow Warriors and the Scotland Under-20s? Callum McCulloch, Ireland
Hi Callum, Laidlaw had a mixed day at the office against Wales. His defence was exposed a couple of times, but so have other players been against Wales. He's definitely attack-minded and might be given another crack at the French. It's fair to say that Ruaridh Jackson would have been Andy Robinson's preferred starter at 10. He played for Glasgow against Scarlets at the weekend and had a good day with the boot, so looks ready to step back up. Weir is a fine prospect but he's not first choice at Glasgow and is unlikely to start for Scotland in the near future.
Do you think the Scottish pack as a whole is probably the best in the Championship so far and, if you gave them the Welsh or French back line, that they would be capable of winning a Grand Slam? I think we are missing a couple of quality centres. Do you agree? Andrew Smith, Scotland
Hi Andrew, to be fair if you put the Welsh backs behind most packs those forwards would look good. I couldn't categorically say Scotland's are the best in the Championship but, in their first two games, they haven't been outplayed. Sean Lamont is a winger playing inside centre, primarily to do the job of getting over the gainline. Nick de Luca can play well. He just isn't hitting form at the right time. I couldn't say Scotland have many other options.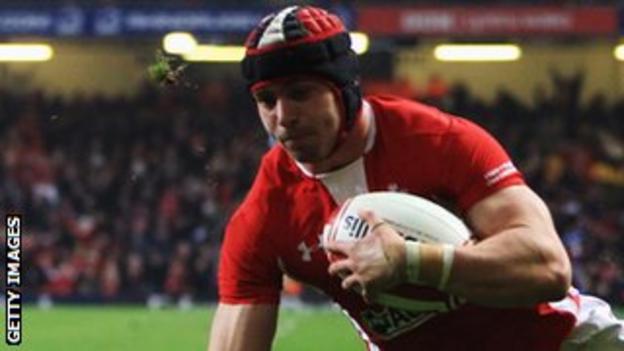 I'm 39 and I can't remember a more exciting time for the Welsh rugby team in terms of the amount of young talent that seems to be coming through. Do you agree that the future looks better for Wales than for an awfully long time? Gareth Lewis, Wales
Hi Gareth, I agree. Wales are proving to be a very competent team, playing with confidence, plus an ambition that few sides dare to try. They are a young team who should get better the more games they win, playing in the style they are. If they win the Six Nations that's great, but not the end, not by a long chalk. They've done that before in 2005 and 2008 and gone on to nothing else. Wales need to beat the southern hemisphere sides home and away. That has to be their long-term objective. In the meantime Wales are a joy to watch.
With Wales now having two big wings in Alex Cuthbert and George North, is there room for a small 'un like Shane Williams in this game of rugby we all love? Rick Schembri, England
Hi Rick, how about Leigh Halfpenny to start with? There are many more the same size playing great rugby . . . Dan Carter, Quade Cooper, Ben Foden, Chris Ashton etc.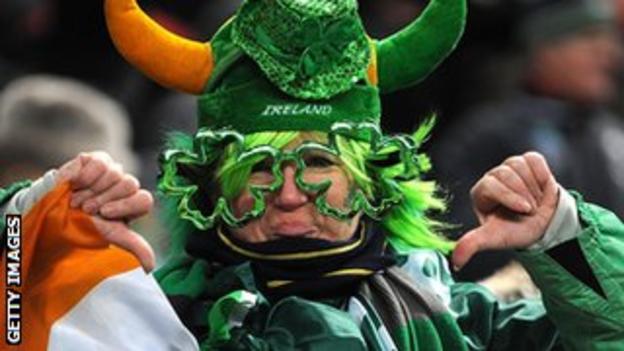 After receiving a very upset and disgruntled phone call from a friend at the postponed France v Ireland match, should they not have predicted the pitch would be freezing and cancelled it days before, saving a lot of people time and money? And should the French Rugby Federation (FFR) be fined for not providing a pitch which doesn't have underground heating? Alexander Ford, England
Hi Alexander, it was unfortunate the game got cancelled and I'm sure they could have made a decision earlier than just before kick-off. It must be a lesson learned and never happen again. The referee makes the decision whether the game goes ahead or not, so I don't think the FFR should be fined. We all hope for the best but what would have happened if the game was cancelled on Wednesday and the weather had changed by Friday?
Why do so many of the players persist in tackling around the chest area rather than the legs? There were at least two tries scored in the opening round that resulted directly from poor tackles attempted at chest height, such as France's opening try from their left winger. As a coach of mini-rugby, we always stress the need to tackle 'correctly' and around the legs and, to my mind, the professionals are setting a very bad example by tackling 'high'. David Anning, England
Hi David, it's a bit of a macho thing to go in and smash a player legally taking man and ball or trying to hit so hard you dislodge the ball or knock the player backwards. Simply if you are big and have a player lined up then all well and good, go for the big hit but generally I agree, go low and target the legs. Another reason to go higher is to prevent the off-load. If a player wants to tackle the body and gets handed off then they look a bit silly. That should be enough to revert back to the legs but it doesn't always have that effect on players. You are right to teach the youngsters to tackle around the legs and, with the right technique and mindset, it rarely fails.