Wales in the Six Nations: Shane Williams answers your questions
Last updated on .From the section Rugby Union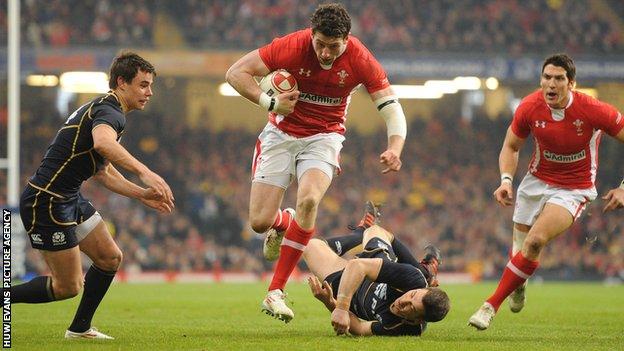 Wales' record try-scorer Shane Williams answers a selection of your questions as Wales prepare for Twickenham with the Triple Crown in their sights.
This is the first Six Nations since Williams retired from international duties in December.
I was at the Millennium Stadium on Sunday for the Scotland game and couldn't help notice that, when you weren't being interviewed for TV, you kept turning around and watching the Wales players warm up. I just wondered what was going through your mind and how you felt watching them and not being on the pitch with them? Carole O'Callaghan
It was my first time back at the Millennium Stadium after retiring from international rugby. Seeing the guys warm up was very difficult and I found that more difficult than the game itself. It was a strange feeling, I just wanted to get on to the field and start warming up with the guys. It's not only about the rugby but also your friendships with the guys as well and being part of that. That's one of the biggest things I will miss about not playing for Wales again.
Would you stick with Mike Phillips or try other alternatives and if trying others, who do you think has shown the real potential in the squad? Andy Jones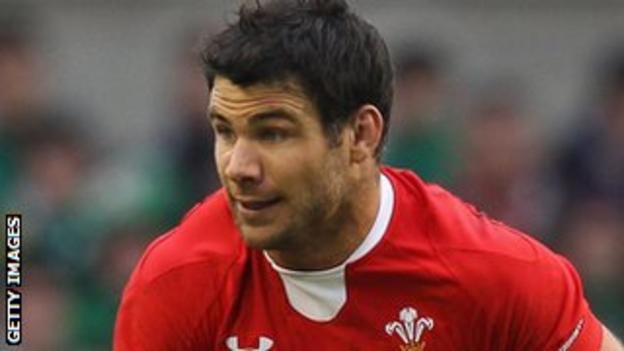 Mike's doing a sterling job. He came away from the Ireland game with a man-of-the-match performance. What Mike gives compared with other nines is different. What he brings to the side at the moment is maturity and even though he's not that old himself he's one of the oldest in the squad and you need experience in key areas. He's used to having to tell the big boys to run around that field and work hard and he communicates well with the 10. There are other players pushing Mike at the moment. I think Lloyd Williams has got one of the best passing games in world rugby at nine. He's clever, he's quick as well and he's played well every time he's featured for Wales. But Mike for me, because of his experience and the way he can control the forwards, would be my first choice.
My question is about the strength in depth that Warren Gatland has developed. Has this been a strategy or has it happened due to the injury count? Amer Hussain
I think it was a strategy of Warren's to get these youngsters in and get them to learn the trade early on. I'm sure any coach that comes in has a strategy to have the strongest squad possible. Due to the fact our academies, Under-20s and so on have been successful over the years we have had good players coming through such as Lloyd Williams and Toby Faletau. That side of rugby in Wales is certainly working at the moment and I'm sure Warren by bringing youngsters in and getting them to work alongside the more experienced players has done the world of good. We have strength in depth in Wales and possibly one of the strongest squads in the Six Nations at the moment.
How do Wales cope with last minute captain/team changes? Also did you ever want to captain Wales? Kate Thomas
It is a disruption, especially when you lose the captain, but in fairness, as proven on Sunday, it didn't really affect the guys that much. Last-minute changes are always difficult but going back to the last question, we are very lucky at the moment in Wales that we have strength in depth. With our captain being injured last minute it didn't seem to affect the game and I thought Aaron Shingler came in and did a great job - and he's not even our second-choice seven.
Captaining Wales wasn't my priority. My priority, when selected, was to play well. Obviously it would have been nice to have captained Wales but it never happened and it wasn't really my intention at the start of my career to be honest with you. I have had the privilege to captain the Ospreys several times and it's a fantastic honour and a great experience. It would have been nice to have done it with Wales but I have no regrets.
It's unfortunate that Wales are picking up so many injuries just when we seem to be building some momentum as we reach the halfway point of the tournament. Just wondering, if George North's injury is as bad as it appeared and he is ruled out, would you answer Wales' call if Warren got in touch? David Carter
Do they really need me? I don't think so. If they wanted me to come back and needed me then I'd never let my country down. But I don't think it's going to come to that. Hopefully George's injury isn't too serious. I spoke to him briefly after the game and he said it's not too bad. Let's hope we get George back sooner rather than later. When George went off, Leigh Halfpenny played one of his best games for Wales on the wing and Alex Cuthbert had a fantastic game. It was great to see him on the field especially after he got injured against Ireland.
Shane, it has been noted by several pundits that England's attack has lacked that cutting force and ingenuity that the Welsh team regularly display. However, given that England have had to play under poor conditions do you think this is an underestimation of their attacking capabilities? If the conditions are good at Twickenham do you think we'll see them making significant breaks through the Welsh defence. Ceasar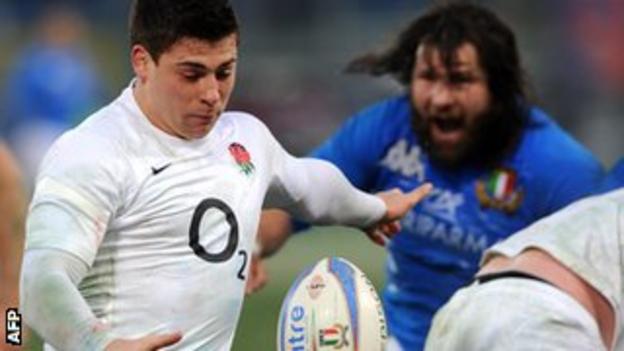 England have won their first two games away from home in poor conditions. Yes, they haven't played the best rugby in the world but they've won tough games. That goes to show the mindset that England have got at the moment and they're more than capable of creating chances. They've got some strong runners in that side with the likes of Ben Foden, David Strettle and of course Chris Ashton. You've only got to look at the amount of touches Ashton's had in the first two games to see that England haven't tried anything behind the scrum. They know probably in better conditions they could play a bit more rugby. I certainly wouldn't underestimate them. We can't go up to Twickenham thinking we're favourites for the game and that we've only got to turn up because they are a strong squad and they've got some dangerous runners in that team.
While having backs with great physical presence like Jamie Roberts and George North is good news for Wales, do you worry that the physical demands of their style of play will leave them with much shorter careers than you were fortunate to enjoy? Andrew Roberts
I do worry for the bigger guys that are going into these big collisions because injuries are going to happen. It's going to happen due to the physical nature of the game. Even though George is a young guy he's had a few injuries in his short career already. Unfortunately some players will end up having shorter careers than others. That's the way the game's going at the moment, where the players are getting bigger. But they're getting just as quick and as good footballers as the smaller guys we've had over the years.
Firstly I have to thank you for the magic you brought to the field over the years and you will be sorely missed. What part of your training was the most important to enable you to perform at the top level? Emyr Lewis
The biggest thing for me was fitness. You've really got to be on top of your game because in this day and age there's such a fine margin between winning and losing and being successful and unsuccessful. You've got to be on top of your game in every aspect of the game. What I found is when I was fit and able to run around and feel good within myself I played my best rugby and I stayed away from injuries a lot more. It's as simple as that.
I was really sorry to read that you are retiring from playing for the Ospreys at the end of the season. Any chance you might change your mind? Good luck for the future Shane and thanks for the superb memories. Richard
I made a decision a while back that I would be finishing with Wales and see my career out with the Ospreys. Nothing's really changed, it's just that I've decided to end it all 12 months earlier. Injury-wise I'm fit and feel pretty good within myself and there's no falling out with Wales or the region. It just felt like the right time. I don't want to play for the Ospreys and take the position of Eli Walker, Hanno Dirksen, Tom Prydie, Kristian Phillips of any of the other guys coming through. They're there to learn their trades as rugby players and hopefully they will want to play for their countries. I'm quite excited by the prospect I'll be doing other things like working with the BBC and S4C and doing other things I haven't had the chance to do over the years.