Luctonians director of rugby Davidson targets promotion push
Last updated on .From the section Rugby Union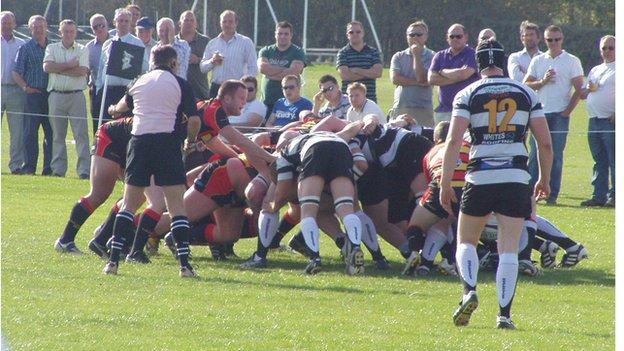 Luctonians director of rugby Alex Davidson is confident his side can still have a major say in the National Two North play-off race.
"Five tries to zero was the final outcome and a 35-3 victory, so it was pleasing to get back to winning ways.
"The home record stays intact with just the two losses and that tees us up nicely for the trip to Preston."
The hard work involved in covering the Mortimer Park pitch paid off, as the Luctonians-Nuneaton game was the only National Two North fixture to beat the freezing conditions.
The victory lifted Lucs to fourth in the league table ahead of a potentially difficult trip to Preston Grasshoppers.
"We went up there last year and lost a prop to a red card before half-time and suffered our heaviest defeat [of the season]," said Davidson.
"It's always a hot bed of rugby up there at Preston and they have a really good tradition.
"They have got a big robust pack but down here we didn't really struggle with them as they didn't have much of a line-out.
"We were able to get the ball down and away and let our much improved backs play."
Preston are currently sixth in the league table - two places and six points behind Luctonians.
Davidson feels his side will have to weather an early storm in this match, but is confident they have the players to set the record straight following that 50-10 defeat last season.
"I can honestly say last weekend our backs did look the complete package so these are exciting times.
"That said, at home Preston go hard for the first 20 minutes and they have got former Super League player Sean Long among them so that's bound to give them a lift.
"We shall just have to go there and see, but I am really hopeful for a result," he concluded.