Six Nations: Brian Moore tips Wales to beat England
Last updated on .From the section Rugby Union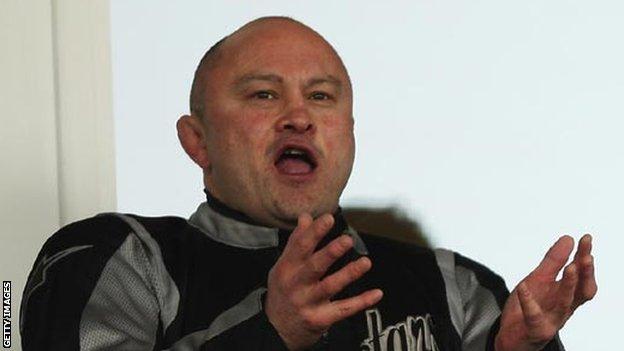 Former England hooker Brian Moore has said Wales are "clear favourites" to win the Triple Crown clash between the sides at Twickenham on 25 February.
Both sides won their opening two Six Nations encounters but Moore believes Wales have the edge behind the scrum.
"There is a Twickenham factor but that shouldn't bother Wales. They are clear favourites by a mile," Moore told the BBC's Sport Wales programme.
"Wales' backline is going to cause problems, with sheer size and power."
Wales have impressed so far with victories over Ireland and Scotland. Meanwhile, England have battled to away wins against Scotland and Italy.
"The sheer number of caps [Wales] have got means they are favourites, when you see the way they play and score tries," Moore continued.
"If Wales come to Twickenham and dispatch England with some aplomb then they must look to try and [win the] Grand Slam and kick on from the World Cup.
"Wales should win; as an Englishman I don't want Wales to win."
If coach Warren Gatland's side do win, they would seal the Triple Crown for the 20th time, but it would be the first time Wales have completed one at Twickenham.
"They don't [have a good record at Twickenham] but if they have any pretensions of being the side they think they might be, then it shouldn't hold too many terrors for them," Moore said.
Both camps go into the encounter with injury and selection dilemmas.
Wales have five players including captain Sam Warburton (dead leg), missing from the win over Scotland, and George North (twisted ankle), who did not train with the squad on Wednesday.
England have Toby Flood, Courtney Lawes and Manu Tuilagi back in contention for selection after injury.
And Moore - who says he would start with Scarlets number eight Ben Morgan rather than Phil Dowson - believes it is not all doom and gloom for coach Stuart Lancaster's men.
"One of the things England have done well thus far is not give games to people," insisted the 65-times capped Moore, who won five times against Wales in nine outings.
"[Their defence] has been pretty good. They have to have that because against sides like Wales you will not hold out for 80 minutes. And then you will need to score in more than [penalties] because as Scotland have proved you can't live with people unless you can score tries.
"The England back three are very potent. They have shown that in patches. England need to understand what style they want to get the ball to set those people free.
"England have a lot of work to do - they know that, but I don't think you can underestimate the importance of two wins."
But, Moore maintains, England are well behind Wales despite their encouraging start.
"What you can't have is youth and inexperience suddenly playing like aged pros - it just doesn't work like that. You have to give them time.
"England's pack can no longer bully people for 60% of the game and win 60% of the ball and therefore win in a limited fashion if they need to.
"I think the forwards aren't of that type, and therefore they need to find a way to bring in the assets which they have got, which are out wide.
"England do not have the players to go back to keeping the ball tighter and smacking people because they just do not have the physical presence."
While Moore is wary of England's reliance on youth, he is full of praise for 19-year-old Wales wing George North.
"He is remarkably mature, not just in the sense of holding and carrying himself well but in games he is one of the Welsh players that has seized the opportunities given to him," Moore said.
"But also when it has looked to be going flat he is one of two or three players who has said, 'right, give me the ball I will start things moving', which is very, very impressive.
"Wales in the backline are going to cause people problems, with sheer size and power. You can defend as much as you like but over 80 minutes someone is going to have an arm tackle on a guy who is 6ft-plus, and 15-16st and quite quick and powerful, and they are going to run through them and cause trouble.
"[Mike] Phillips can start it off at nine, so they have got threats all the way through.
"The difficulty Wales have got is their front five. [Suspended lock Bradley] Davies isn't there anymore [and] they are down to their third-choice hooker and that is one of the areas where England did well against Italy."
Watch the full interview on Sport Wales, Friday 17 February, BBC Two Wales, 2100 GMT