Exeter's Hoani Tui and Jason Shoemark sign two-year deals
Last updated on .From the section Rugby Union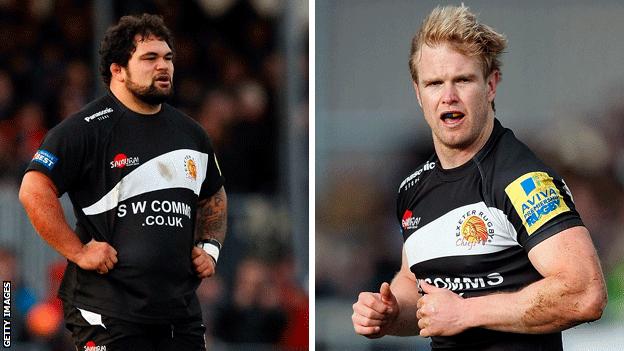 Exeter prop Hoani Tui and centre Jason Shoemark have signed new two-year deals with the Chiefs.
The New Zealand pair, aged 27 and 31 respectively, have made nearly 100 club appearances between them.
Exeter head coach Rob Baxter said: "I don't want to be making too many changes. These guys are a big part of things on and off the pitch.
"I'm a big believer that your retention policy in some ways is more important that your recruitment.
Baxter added: "Making sure you keep the right players on board is obviously important for us.
"I feel we have got a good squad of players and good characters who have played a big part of our on-going success in getting to the Premiership and helping us establish ourselves."
Tui has proved his worth as a versatile member of the front-row - featuring at loosehead and tighthead in domestic and European competition.
"He's a good character, a popular member of the squad and a very good player. What people may not understand is that Hoani is still getting better, particularly as a tight-head," Baxter continued.
"If you look at how much top-level rugby he's played you'll see he's still learning as he goes."
Baxter was also glowing in his praise for Shoemark, who moved to Sandy Park from the Highlanders Super Rugby franchise in July 2010.
"We wanted someone with experience, not just of matches but someone used to being a leader, used to playing in different groups of people and bringing the best out of those around them. Shoey ticked all those boxes.
"I don't think we've seen the best of him in an Exeter shirt. His performances are still getting better and that's always pleasing for coaches.
"We are a long way from being the finished article as a team and Shoey is a key part of that. He's keen to develop areas of our game and his game and that's what we want to have here."