Six Nations: Ben Youngs fears for England place
Last updated on .From the section Rugby Union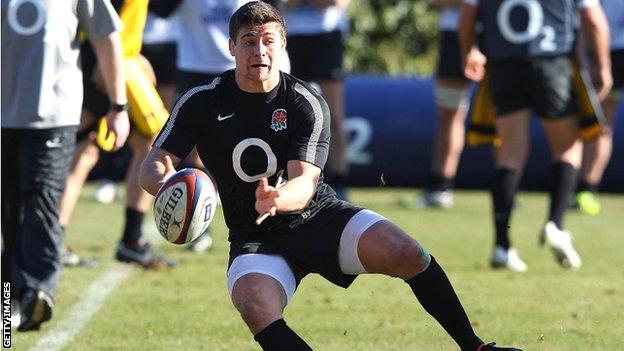 England scrum-half Ben Youngs admits he faces uncertainty over his place ahead of the Six Nations match against Wales at Twickenham on 25 February.
The 22-year-old was replaced by Lee Dickson, who impressed in his place, in last weekend's 19-15 win over Italy.
Youngs told BBC Sport he had discussed his performance with England interim coach Stuart Lancaster.
"We had a good chat and he said keep cracking on but he hasn't decided who's going to play against Wales," he said.
"I've got to stay positive, there is definitely a tussle now, there always is, but I've got to work very hard and try and prove myself because I'm definitely under pressure."
Youngs burst onto the international scene in 2010, playing a starring role in wins over Australia home and away, and has won 19 caps.
But since undergoing keyhole surgery on his left knee before last year's World Cup, but has struggled for top form and has endured a frustrating time in England's opening two Six Nations matches.
"I think combinations take a little bit of time, them understanding what I'm trying to do and at the same time me understanding what they're trying to do," he said. "Obviously things didn't go to plan in the first half [against Italy] but in the second half we started off well and the guys really kicked on from there and did really well.
"Sure it's been a frustrating time but it's just understanding each other; there have been scenarios in games where I'm expecting someone to hit this hole but they don't and it ends up running into each other or I get smashed or they get smashed and before you know it you get more and more worked up during a game which doesn't help."
The Leicester player certainly was visibly dissappointed after his substitution in Rome, but insisted his anger was not directed at the England hierarchy.
"As a player you pride yourself on getting the things you think are your core skills right. Sadly my running game didn't quite click at the weekend, so when you come off it's not aimed at coaches or anyone, it's aimed at yourself.
"I think I grabbed my [protein] shake and my coat, walked out and probably shook my head but that's more annoyance at myself that I probably...not under-performed, but I've watched the game back twice and it wasn't as bad as I initially thought, it wasn't great but it wasn't too bad.
"Hopefully if I get another chance it might click. I'm not saying it will, but hopefully it would. It's not clear whether I will or not but we're two games in, conditions were tough in Italy, they're a hard physical pack, they slow down our ball, you only can play a high-tempo quick game as quickly as the ball is coming back to you.
"But excuses aside, I need to get back to playing my natural game, not over-think things which I think perhaps I have been doing, putting too much pressure on myself. I need to get back to enjoying it and thrive on the pressure rather than being daunted."
Meanwhile, Northampton's Dickson admits he would relish the opportunity to start against Wales.
"Yes, I am very confident," said the 26-year-old, who pulled out of a Royal Marines training camp in 2004 and opted for rugby rather than following his father, Major Steve Dickson, into the armed forces.
"I made the decision to follow my dream to play rugby and it's paid off," he added. "I drive my standards myself, every day in training - my ability to get around the park as quick as I can, get my forwards working hard for me and organising defence.
"I know I am very capable of doing that from the start. Ben Youngs is a great player in his own right. It's the coaches' decision who they want to pick. We've got two great nines here so I've just got to see what they say."