Blues chief Peter Thomas issues player wages warning
Last updated on .From the section Rugby Union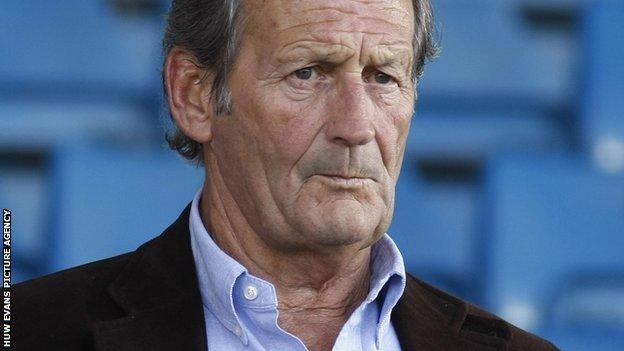 Cardiff Blues chairman Peter Thomas has warned that the Welsh regions will no longer pay their top players when they are away on international duty.
But Thomas says falling revenues mean they need Wales and other Test teams to pay wages when they have the players.
"If you're working for another company [playing for another team]... then they pay you," Thomas told BBC Sport Wales.
"[That applies] be it the Lions, or be it the World Cup, or be it the Welsh Rugby Union, or be it the sevens, or be it the Barbarians."
At the moment Wales' top players are paid a regular salary from their parent regional side or club, plus another contract from the Welsh Rugby Union or other representative side for international duties.
The four regions are part-funded by the WRU, which invests £6m directly every year shared between the four and also helps to finance the academies, but the remainder must be self-funded.
The Wales national side is enjoying a period of sustained success and popularity, but that has not translated into good attendance numbers at domestic games.
The Blues have recently decided to return to their former 14,000-capacity Arms Park home for some games because of falling crowds at the Cardiff City Stadium, where they signed a 20-year tenancy lease with Cardiff City Football Club.
However, speaking to BBC Sport Wales' The Back Page programme, Thomas confirmed that they will continue to play Welsh derby matches at the Cardiff City Stadium, while the 26,828-seater ground is also likely to serve for bigger European fixtures.
Although there is the background of the general economic downturn, Thomas points out that one of the regions' biggest selling points - their star players - are not often on show at regional level because of their international commitments.
"[Rugby] is our national sport, but sadly it doesn't reflect in regional rugby and that's backed up by the fact that we're not getting the crowds that we used to have, and desperately need," Thomas added.
"It is a great worry but the regions have had to introduce a salary cap. It's very concerning to us all that international players with so many other commitments to the national team, which is vitally important, that in addition to that every year there is either a Welsh tour, there are Lions tours, there are Rugby World Cups.
"If you look at a national squad player, he is available to his region for only 20 weeks a year.
"In any business you cannot afford to pay someone with the crowds that we're getting, or the lack of them, and the way the game is going it cannot be sustained any longer by private equity.
"However, in future it's going to be retrospective. What I mean by that is if you come and turn up for work at the Blues you get paid.
"There are individuals throughout Wales who have propped this game up now for 15 years and it's not fair to the employees of the businesses.
"And that's why we've introduced the cap and that's why now we've got to look at various alternatives.
"It's unsustainable as it is, we're looking at various modules, we're working very closely with the Welsh Rugby Union.
"[Accountancy firm] PriceWaterhouseCoopers are now doing a report on the position and that will actually give us an indication of where we all stand, and I believe it's due to be published sometime at the end of March."
Falling crowd numbers have added to the financial pressures on the Welsh regions, who have already seen some of their leading players leave or announce they will leave for richer English and French clubs.
The Welsh sides' self-imposed salary cap of £3.5m compares unfavourably to that imposed on English Premiership sides and is dwarfed by the £7.1m limit of French Top 14 clubs.
From the 2012-13 season, English sides can spend a maximum of £4.5m if 'academy credits' for fielding home-grown talent are taken into account, and they can also nominate one marquee signing to be excluded from the cap.
The Irish provinces operate on a different model to the other three nations, with Ireland squad players centrally contracted by governing body the Irish Rugby Football Union.
"There will be a lot of players leaving, but a lot of those players will have come to the end of their playing careers," Thomas said.
The Blues chairman added that they will not be offering a new contract to veteran flanker Martyn Williams, while Wales and Lions prop Gethin Jenkins has a one-year extension on the table.
"We've offered him a contract for another year on the same contractual amount that he's on this year," Thomas confirmed.
While Thomas paints a gloomy picture, he is confident that if they act now the four regions can safeguard their future.
"I'm very optimistic that the four regions can survive as sustainable businesses on the basis of discipline and working within lower, tighter, stricter budgets," Thomas added.
"All the regions are united on that front and we're working very closely with our governing body, the Welsh Rugby Union.
"But the time has come when we've now got to work within our means. Effectively you've got to take more money in than what you spend out and to do that there has to be cuts."
Listen to The Back Page every Saturday morning on BBC Radio Wales at 0830 GMT, and on demand for seven days afterwards.