Guernsey go top of table after 53-0 win over Portsmouth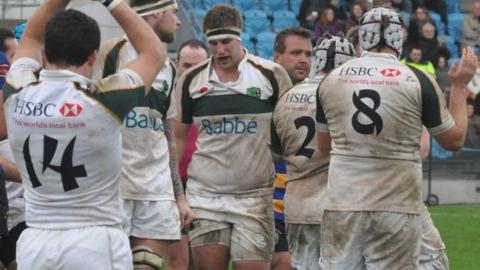 Guernsey have gone top of London One South after crushing Portsmouth 53-0 as rivals Chichester lost 15-14 at Hove.
Player-coach Jordan Reynolds scored two while Nick Barton and Malcolm Barnes also grabbed a brace of tries.
Dave Davison and Luke Sayer got a try each while Sayer also kicked 13 points.
"The whole team were really good if you take into consideration that we kept them to nil - it's one of the first times they've been kept to nil for years," said boss Jordan Reynolds.
But Reynolds says it is important that his side do not get carried away now they have got the top spot.
"There seems to be a good vibe going and a good buzz, but we're still very level-headed in terms of what we've got to achieve," he told BBC Guernsey.
"We've still got six games to go, taking the number one spot off Chichester is a great result for us, it's probably come a little bit earlier than we thought.
"The thing is trying to keep the right focus amongst the boys and we'll have a talk on Tuesday about what we need to do to achieve where we want to go.
"There are a lot of opportunities to make mistakes and we've got to make sure we're playing right through to the rest of the season," he added.