New Ospreys coach Steve Tandy 'in at deep end' - Gatland
Last updated on .From the section Rugby Union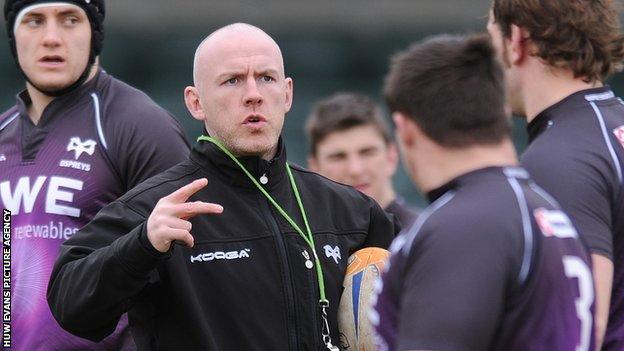 Wales coach Warren Gatland says new Ospreys' head coach Steve Tandy "has been thrown in at the deep end" as the region "starts again".
Gatland said: "Steve Tandy - a very young coach - has probably been sort of thrown into the deep end and I feel for him."
Gatland hopes Tandy receives the support he will need to succeed.
Tandy, 32, leaves his coaching role with Welsh Premiership side Bridgend immediately and will be assisted by forwards coach Jonathan Humphreys.
"It's probably a little bit sad to see that Sean Holley's taken the brunt of the criticism and fallen on his sword and Scott Johnson's moved on," said Gatland.
"I know a lot of people... who speak really highly of him [Tandy] as an individual and as a character and that's a really good starting point in terms of having those attributes, honesty and things.
"So I just hope that he gets the support that he's going to need around to enable them, I suppose, start again.
"It's almost like starting again, isn't it?"
Shortly after Holley's exit was announced, the region revealed they had accepted Johnson's offer to resign as director of coaching.
Aussie Johnson had been expected to stay on until the end of the season before joining the Scottish Rugby Union to assist Scotland head coach Andy Robinson.
Tandy was a member of the Ospreys squad when the region was formed in 2003 and went on to make 102 appearances.
A month after playing his final game in March 2010, the back-rower was appointed head coach of Bridgend, having started his coaching career with Ospreys' Under-16 squad.
He secured promotion to the Welsh Premiership in his first season and leaves them in eighth place this season.
In December 2011, Johnson announced his intention not to look to renew his contract after accepting an offer to join the Scottish Rugby Union.
But his departure has now been brought forward following the announcement of Holley's departure.
Tandy's first game in charge with be the Pro12 match with Aironi at the Liberty Stadium on Friday.
Flanker and Welsh Rugby Union/Ospreys regional community manager Ben Rose will take at Bridgend until the end of the season.
Watch Scrum V's interview with Warren Gatland on Sunday, 17 February, BBC Two Wales from 1800 GMT.